Highlights from the 6th Annual Qualys SaaS Security Conference
Last updated on: September 6, 2020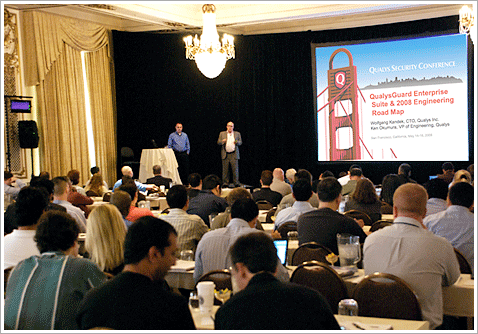 At this years 6th Annual Qualys SaaS Security Conference, top security professionals from around the world joined together May 15 & 16, 2008 at the Palace Hotel in San Francisco, California for an information packed 2-day event.   
CSOs, network and security professionals were introduced to executives from Gartner, Cisco, CNET, Med Immune and Sodexo who provided insight into their use of Qualys' solutions and shared best practices for deploying vulnerability management offerings, integrating with managed services platforms and ensuring regulatory and operational compliance.
Qualys CEO Philippe Courtot connected with Qualys customers to listen to their views while taking feedback on the critical issues impacting their security organizations today. He stated: "QSC was created specifically to engage directly with our customers.  It allows us an opportunity to hear customer insight that could shape our future roadmap as we build the next generation of security Software-as-a-Service (SaaS) solutions."