Microsoft Patch Tuesday: July 2008 Security Bulletin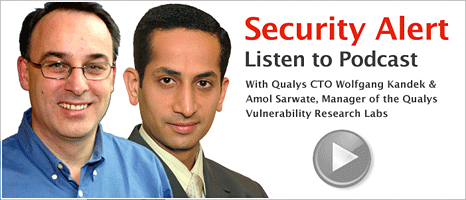 Qualys® Vulnerability R&D Lab has released new vulnerability checks in QualysGuard® to protect organizations against the 4 new vulnerabilities present in Microsoft Windows. Yesterday's Microsoft Patch Tuesday marks a first – a synchronized industry wide effort for the patching of a common vulnerability. Customers can immediately audit their networks for these and other recent vulnerabilities by accessing their QualysGuard subscription.
Microsoft released in July, 4 security patches to fix newly discovered flaws in Microsoft Windows. The Qualys Vulnerability R&D Lab has released the following checks for these new vulnerabilities, including:
– DNS Could Allow Spoofing
– Microsoft Windows Explorer Remote Code Execution Vulnerability
– Microsoft Outlook Web Access for Exchange Server Elevation of Privilege
– Microsoft SQL Server Could Allow Elevation of Privilege
Coming Soon — the next update on Qualys® Vulnerability R&D Lab takes place August 12th.