Qualys Ranked the 36th Fastest Growing Company in Silicon Valley by The Silicon Valley/San Jose Business Journal's 2008 'Fast 50'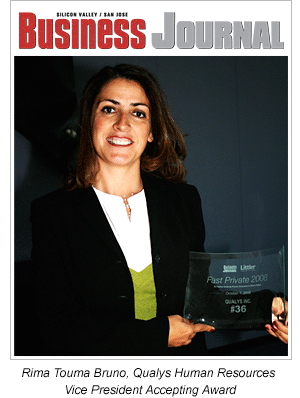 In a private dinner ceremony held on October 7, 2008 at the San Jose Fairmont's Club Regency, Qualys Vice President of HR, Rima Touma-Bruno was in attendance to receive the Fast 50 award.
"Being named the 36th fastest growing company in Silicon Valley is a tribute to the global adoption of our Security-as-a-Service platform and applications," said Philippe Courtot, CEO and chairman of Qualys. "We are honored that the San Jose/Silicon Valley Business Journal has recognized Qualys' growth, and in turn, highlighted the ease if use, quality, scalability and cost effectiveness that the Security-as-a-Service model uniquely provides."