Dummies Guide to PCI Compliance — Now Available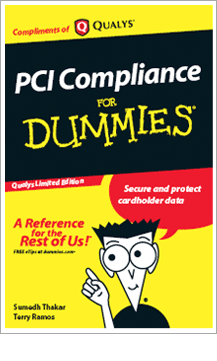 Just released – "Dummies Guide to PCI Compliance" in conjunction with publisher John Wiley & Sons. This handbook is the first accessible, easy-to-read written guide designed to educate merchant organizations about Payment Card Industry (PCI) Data Security Standard (DSS) which is now a mandatory requirement for companies that store, processes, or transmits payment cardholder data. PCI Compliance for Dummies provides the need to know information about PCI DSS and how merchants can best comply with its requirements for secure results. This book is co-authored by Qualys' Sumedh Thakar and Terry Ramos.
In five succinct parts, the book guides readers through a primer on security risks faced by merchants who accept payment cards and also looks at the PCI requirements themselves and how each applies specifically to the merchant. Readers will also become familiar with best practices and outlined steps to ensure compliance to prevent cardholder data breaches.
To download a free copy, visit http://www.qualys.com/pcifordummies