Qualys CTO Wolfgang Kandek Talks Security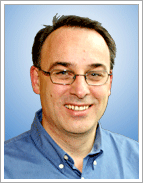 The Tech Herald speaks with Qualys CTO, Wolfgang Kandek about Microsoft security updates and the importance of these patches specifically to Internet Explorer (IE7).
"Every month when Microsoft issues its security advisories we get asked what patch to apply first? Typically we are reluctant to elevate one vulnerability over the other, however looking at the 2008 data we agree that Internet Explorer vulnerabilities should be given the highest priority and patched first," said Qualys CTO, Wolfgang Kandek.
"The browser is the heaviest used software application that interacts with the Internet, the most likely source of malicious content. It is not only used for professional purposes but also in private interactions, e-commerce, social networking, private e-mail, etc. Browser patches are heavily tested by Microsoft and unlikely to break any existing functionality on the desktop."
Sometimes these updates are for Windows, sometimes they are for Internet Explorer or Office, sometimes they are for all three, and then some. Yet, after each Microsoft release, new attacks on vulnerabilities addressed in the monthly updates appear online. This month, the attacks are aimed at Internet Explorer, which after all this time, many people fail to update consistently.