Qualys Introduces QualysGuard Web Application Scanning 1.0
Qualys today announced Web Application Scanning now part of the QualysGuard Security and Compliance Suite. QualysGuard WAS delivers automated crawling and testing for custom Web applications to identify most common vulnerabilities such as those in the OWASP Top 10 and WASC Threat Classification, including SQL injection and cross-site scripting. QualysGuard WAS scales to scan any number of Web applications, internal or external in production or development environments.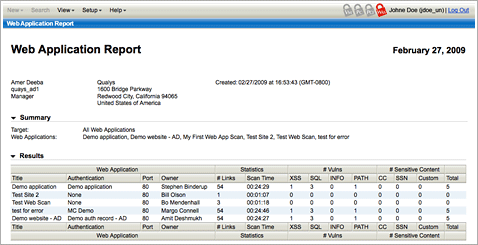 QualysGuard WAS features and customer benefits include:
Crawling & Link Discovery — An embedded Web crawler parses HTML and some JavaScript to extract links. QualysGuard WAS automatically balances breadth and depth of discovered links to crawl up to 5,000 links per Web application.
Authentication–QualysGuard WAS incorporates HTTP Basic, Digest and NTLM server-based authentications, as well as Simple form authentication.
Black List and White List Enforcement–The application prevents the crawler from visiting black-listed links in a Web application and can instruct the crawler to only visit links explicitly defined in a white list.
Performance Tuning–QualysGuard WAS provides granular, user-determined bandwidth level control for parallel scanning to limit impact on application performance.
Sensitive Content–The application enables automated expression search for content in HTML, such as a Social Security Number.
Workflows for Defining Scans and Reviewing Reports–QualysGuard WAS provides logical scan and reporting workflows for each Web application.
CEO Philippe Courtot stated: "Web application security is the new frontier in security and a big challenge for most organizations. The automated nature of our new Web application scanning solution will allow our customers and partners to get a clear picture of their Web application security with the ability to scan their entire environment at the push of a button."
QualysGuard WAS is available as part of the QualysGuard Security and Compliance Suite on May 26, 2009. QualysGuard WAS annual subscriptions are based on the number of Web application(s) scanned and include unlimited number of scans and 24×7 support and updates.