Qualys Ranked the 39th Fastest Growing Company in the Silicon Valley
Last updated on: September 6, 2020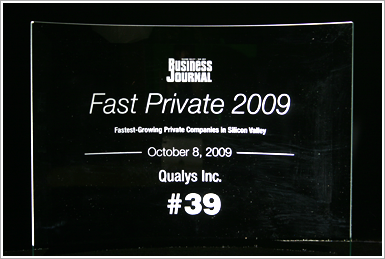 Qualys has been ranked the 39th fastest growing company by the Silicon Valley/San Jose Business Journal's Top 70, a ranking of private companies in the Silicon Valley based on percent revenue growth from 2006 to 2008. This ranking highlights Qualys' continued growth and its customers' adoption of QualysGuard's IT security and compliance solutions, delivered in the cloud.
"We are honored for this acknowledgment by the San Jose Business Journal for the second consecutive year," said Philippe Courtot, CEO and chairman of Qualys. "We attribute this success to the opportunity our customers gave us to work with them, and to the SaaS model which allows us to respond to their specific security and compliance needs much quicker than enterprise software solutions."
The "Fast Private" represents the third industry recognition Qualys has received during the second half of 2009. In September, Qualys received the Information Security Magazine Readers' Choice Gold in the vulnerability management category and in August Qualys was named one of America's fastest-growing companies by Inc. Magazine for the third consecutive year.