Qualys Security Conference 2009 Highlights & Pictures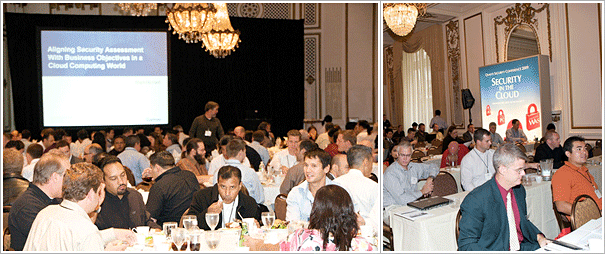 At this years 7th Annual Qualys Security Conference, Qualys customers and security professionals from around the world convened at the Palace Hotel in San Francisco to discuss IT security and compliance best practices. The event went for 3 days (October 5-7) and it included a day of QualysGuard training.
Keynote presentations included:
Mark Nicollet, VP and distinguished analyst at Gartner, who discussed the importance of aligning security assessment with business objectives in order to succeed in securing the enterprise.
Bob Russo, GM of the PCI Council, who gave an update on PCI DSS and the objectives of the council in 2010.
Over the course of the two days, several Qualys customers presented talks and best practices on their use of vulnerability and compliance management solutions. Presenting customers included: Brad Freeman, global security services leader, General Electric; Doug Dexter, audit team lead, Cisco; Robert Wagner, security architect, TransUnion; Tim Larson, security consultant, Nokia Siemens Networks and Steven Elefant, CIO of Heartland Payment Systems. Customers also got a chance to meet Qualys engineers and hear about Qualys' roadmap, participate in round tables and provided direct feedback and suggestions.
"I just wanted to say this was one of the most information conferences I have ever attended.  The information presented was both informative and beneficial. Meeting the folks at Qualys really helped since I am brand new with using the product," said Allstate, Security Consultant.
"I'd like to thanks Qualys by the way for putting together another great seminar and presentation, as a user of your products it's appreciated that you are customer focused," said Judicial Council of California, Supervisor of Technical Services Groups.
Lastly, Qualys celebrated its 10th year anniversary with customers at the stunning Julia Morgan Ballroom for a night of fine dining and entertainment.
Pictures of the conference can be seen at:
http://www.flickr.com/photos/27063400@N03/sets/72157622537337112/