Qualys Ranked One of the Fastest Growing Companies in North America on Deloitte's 2009 Technology Fast 500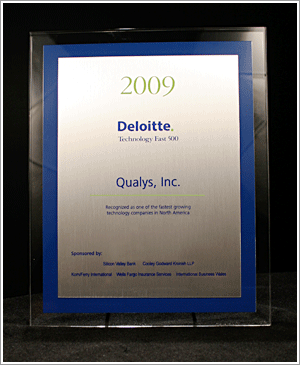 Last night, Qualys was ranked number 362 on Technology Fast 500™, Deloitte LLP's ranking of 500 of the fastest growing technology, media, telecommunications, life sciences and clean technology companies in North America. Qualys has been ranked on the Technology Fast 500™ for the fourth consecutive year. Rankings are based on percentage of fiscal year revenue growth during the five-year period from 2004-2008. This ranking highlights Qualys' accelerated adoption of its IT security and compliance solutions, delivered in the cloud via a Software-as-a-Service (SaaS) model, by thousands of organizations and government agencies worldwide
 
"Being recognized as one of the fastest growing companies in North America for the fourth consecutive year is an honor that we share with our customers and we thank Deloitte for this ranking," said Philippe Courtot, CEO and chairman of Qualys. "We attribute this success to our customers who for the last 10 years believed in the Security-as-a-Service model and adopted our IT security and compliance solutions to secure their businesses and demonstrate compliance at a much lower cost than other existing enterprise software solutions."
 
"Technology Fast 500™ recognizes innovative companies that have broken down barriers to success and defied the odds with their remarkable five-year revenue growth," said Phil Asmundson, Vice Chairman and U.S. Technology, Media and Telecommunications leader, Deloitte LLP. "We congratulate Qualys on this accomplishment."