Randy Barr of WebEx Joins Qualys as CSO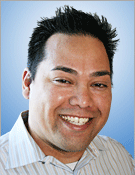 With over 13 years of information technology and leadership experience in highly scalable Software-as-a-Service (SaaS) environments, Randy will be responsible for security, risk management and business continuity planning of the QualysGuard platform. He will also lead the Qualys CSO Advisory Board efforts to collaborate with customers on devising and implementing security and compliance best practices.
"Qualys has pioneered the SaaS model for delivering security applications to enterprises and remained focused over the past ten years on delivering to customers quality solutions to address complex IT security and compliance challenges," said Randy Barr. "I am thrilled to join Qualys at this exciting time when cloud computing solutions are becoming prominent to help enterprises defend against recent threats."
Randy most recently was the Information Security Officer at Yodlee responsible for insuring a high-level security posture of Yodlee's Internet based financial services. Before Yodlee, Randy served as CSO for WebEx Communications, a Cisco company.
"Randy was one of our early adopters when he was at WebEx and helped us shape the security of our SaaS platform," said Philippe Courtot, Chairman and CEO of Qualys. "His strong technical background in securing global infrastructures will help us consolidate the global expansion of the QualysGuard SaaS Platform while bringing the CSO point of view at the core of what we do."