QualysGuard PCI Now Supports PCI DSS Prioritized Approach
Last updated on: September 6, 2020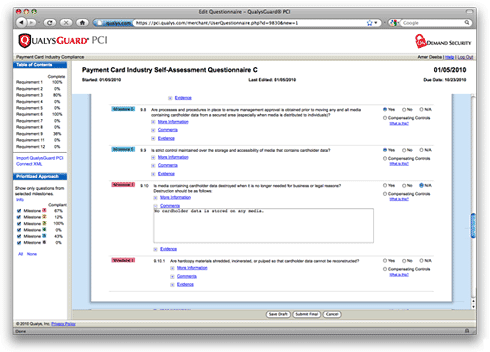 A new release of QualysGuard PCI version 4.3 is now available in production to help customers prioritize and track PCI compliance efforts, including support for the DSS Prioritized Approach. PCI DSS requires businesses to complete a PCI Self Assessment Questionnaire every 12 months. When completing or editing an SAQ, users now have the option to use the Prioritized Approach, helping merchants identify and focus on areas of high risk as early as possible so users can prioritize compliance efforts.
New features in this release also include:
SAQ Wizard. QualysGuard PCI now provides an SAQ Wizard to help customers identify which questionnaire to complete, making it quick and painless to fill out and auto submit the questionnaire to acquiring banks.
Ability to Track Progress. Users can prioritize and track their SAQ progress, with the ability to see the percentage of completion per requirement, as well as percentage of compliance per milestone.
For more info on QualysGuard PCI, please http://www.qualys.com/solutions/pci_compliance