Qualys Wins Award for Best SME Security Solution
Last updated on: September 6, 2020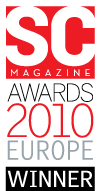 QualysGuard Express has been awarded the SC Magazine Europe Award 2010 for Best Small and Medium Enterprise (SME) Security Solution. The award was announced at the SC Magazine gala dinner held at the Wyndham Grand London in Chelsea Harbour on April 27, 2010.
"QualysGuard Express brings us the simplicity of deployment and use while providing a continuous, very comprehensive and accurate assessment of our security and compliance posture," said Barrie Ainsworth, head of IT for Kiddicare. "Furthermore as Qualys continues to deliver additional services to its platform, we are seeing that QualysGuard is a very good longterm investment."
Click here to read the full news release.