Qualys Party at Black Hat USA Featuring Integration Partners
Last updated on: September 6, 2020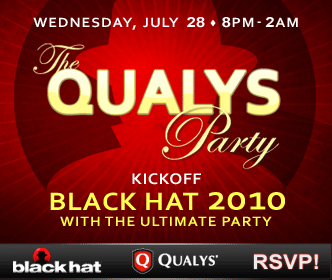 Qualys with our integration partners invite you to join us for the "ULTIMATE PARTY" at the JET Mirage Nightclub.
Featuring the following Integration Partners: AirTight, RSA | Archer, Core Security, Immunity, Imperva, RedSeal, SecureWorks, Sourcefire, TrendMicro, VeriSign.
Enjoy an open bar and dance the night away to Tainted Love and DJ DIRTYHERTZ at one of the hottest nightclubs in Las Vegas.
For more information on this event and to RSVP, please visit: http://www.qualys.com/blackhat.