SC Magazine Names Qualys Best Security Company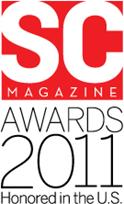 Qualys announced yesterday at RSA Conference that it has been given the prestigious designation as the Best Security Company in the Excellence Awards category of the 2011 SC Awards U.S. QualysGuard Vulnerability Management (VM) was also named Best Vulnerability Management Tool in the Reader's Trust Award category, for the fifth consecutive year, and QualysGuard Express was awarded Best SME Security Solution in the Excellence Awards category.
"It is an honor to be selected as by SC Magazine readers and its esteemed panel in three award categories," said Philippe Courtot, chairman and CEO of Qualys. "We share these awards with our customers and partners. These awards clearly reflect the growing recognition and adoption of the Security as a Service model that we have built our company upon since it inception."
The awards, recognizing Qualys' outstanding achievement in IT security and its exceptional security products, were made on Feb. 15, 2011 at the SC Awards Gala, held in conjunction with the annual RSA Conference in San Francisco.