Qualys Wins CEO of the Year and Best SME Security Solution at the 2011 European SC Magazine Awards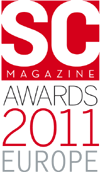 Qualys today announced that it has received SC Magazine Europe 2011 awards for Best SME Security Solution and CEO of the Year. Qualys Chairman and CEO Philippe Courtot accepted the awards presented by SC Editor Paul Fisher at a special gala event held on April 19th at the London Hilton on Park Lane.
"We are delighted to see QualysGuard Express gain recognition for Best SME Security Solution for the second year in a row, and I feel very honoured to be named CEO of the Year," said Courtot. "These awards are a testament to the accelerated adoption of the SaaS model for security by large and small companies across the world. We want to thank our early adopters and customers who, like us, believed in the promises of SaaS and supported us over the years."
Read the full news release.