Qualys Awarded Global Market Share Leadership Award in Vulnerability Management for Second Consecutive Year
Last updated on: September 6, 2020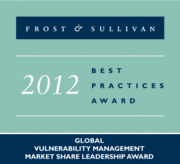 Qualys today announced that Frost & Sullivan–for the second year in a row–awarded Qualys with its 2012 Global Market Share Leadership Award in Vulnerability Management. The award, based on independent analysis of the Global Vulnerability Management market, which included in-depth interviews with customers, partners and vendors, recognizes the excellence of Qualys' solutions and describes Qualys' innovation.
"Qualys is the undisputed market leader in vulnerability management, and it has been for multiple years. Intelligently staying ahead of the curve, the company continues to develop new products and features to address the ever-evolving security and compliance needs of enterprise organizations, government agencies and smaller businesses," stated Chris Rodriguez, industry analyst for Frost & Sullivan, in the report. He continued, "An aggressive product road map and quality initiatives have strengthened Qualys' current leadership position in the market, and it is expected to continue to do so in the future."
Read the full news release or read the report.