Qualys Wins Reader's Choice Awards 2012 for Best Vulnerability Management
Last updated on: September 6, 2020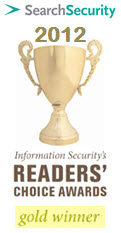 Qualys today announced that its QualysGuard Vulnerability Management (VM) solution won the 2012 ISM Reader's Choice Awards in the best of vulnerability management category. In its seventh consecutive year of Reader's Choice Awards, TechTarget ISM subscribers were surveyed to determine the best information technology (IT) security products. More than 2,000 subscribers participated this year, rating hundreds of security products in 14 different categories.
"Our readers are the most knowledgeable and active technology professionals working in IT today. Their ratings reflect extensive technical experience and practical application of the products," said TechTarget Vice President and publisher of security media, Doug Olender. "These awards are designed to help serious technology buyers understand the products available to solve their IT security challenges."
Information Security Magazine subscribers were asked, in an online survey, to select the products currently used in their organization, rate those products based on criteria specific to each category, and indicate the importance of each criterion. Winners were determined by the cumulative weighted responses for each product category criteria.
The full set of winners can be found online with accompanying editorial at: http://searchsecurity.techtarget.com/guides/Readers-Choice-Awards-2012. Read the full news release.