Automatic Scanning is now part of BrowserCheck Business Edition
Last updated on: September 6, 2020
Qualys BrowserCheck (www.qualys.com/browsercheck), our free "online checkup" service, now makes it easier for individuals and businesses to know whether their computers are up-to-date and safe for surfing the web.
With BrowserCheck, not only can you see whether or not your browsers and plugins are current with vendors' latest releases, now you can also check your Windows PCs for any missing Microsoft Security Updates. In addition, businesses can have this scanning happen automatically, without any user intervention.
IT administrators can now use the enhanced web console in BrowserCheck Business Edition to:
Set how often users' machines are automatically scanned (such as daily, weekly, or monthly).
Get easy instructions for connecting users' computers to BrowserCheck.
Continuously track which browsers and plugins are installed on each machine.
Verify that crucial OS security settings are enabled and that OS security updates are being received.
View at-a-glance dashboards and drill down into per-machine status.
BrowserCheck End User Enhancements
Users who visit BrowserCheck directly will now see:
Advanced Scanning for missing Microsoft Windows Security Updates. This release provides a simpler way for users on Windows PCs to choose how deeply they would like their computers to be scanned. Instead of having to pick among specific scanning features, users now can simply select a type of scan from a drop-down menu:
Basic– Scan just the browser that is currently being used and its plugins. This is the default type of scan and is like the scan done on non-Windows platforms which can't use the BrowserCheck plugin. Previously, this was performed when none of the "Scan Options" check boxes were selected.
Intermediate– Scan all browsers installed on this PC as well as their associated plugins (even ones that are disabled). This also checks whether important OS settings are enabled, such as anti-virus, firewall, Windows Update and DNS-changer malware. In the previous release, this was performed when both of the "Scan Options" check boxes were selected.
Advanced (new in this release) – In addition to the checks listed above, this option causes BrowserCheck to identify any missing Microsoft Windows security updates. This is very powerful, but may take several minutes to perform.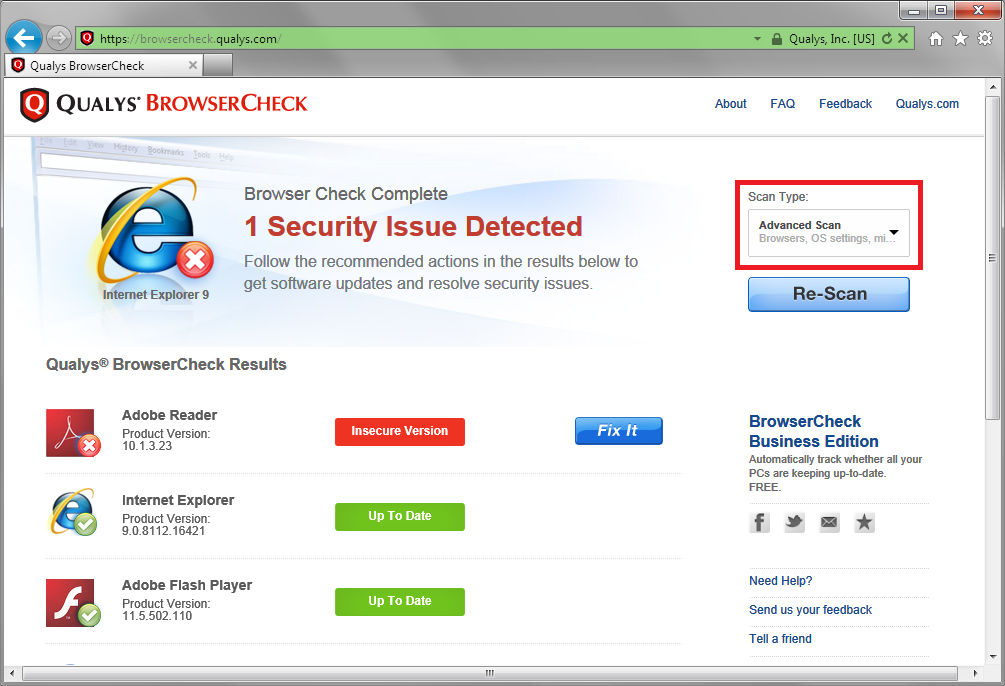 BrowserCheck Business Edition Enhancements
IT administrators get several new features in BrowserCheck Business Edition:
Automated scanning. The web-based management console provided by BrowserCheck Business Edition now gives IT administrators the ability to have corporate PCs scanned every day, week or month. Users on PCs no longer have to manually revisit browsercheck.qualys.com; the BrowserCheck plugin will automatically re-scan their computer at the appropriate time. Note that the BrowserCheck plugin is still very lightweight; it only runs when the user's browser is open, unlike heavyweight agents that run in the background all the time. This approach gives administrators an efficient, reliable way to keep track of what's installed on each machine and whether it's still current with vendors' releases – without interrupting the user.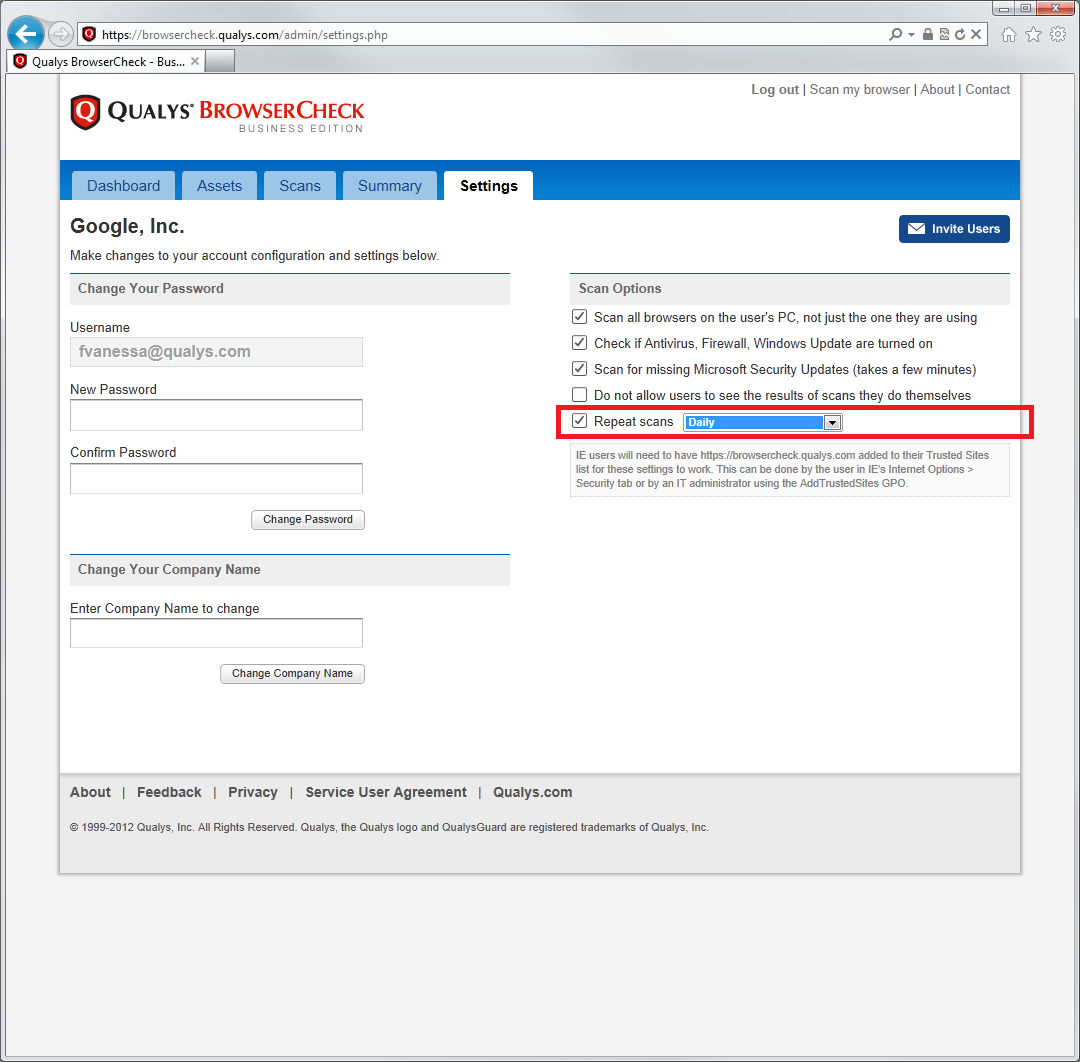 Easier-to-use lists of scans. The Scans tab now follows the layout used in the Assets tab, making it easier for administrators to drill down into specific scans done on specific machines.
Faster. Switching among different tabs to examine data in different ways is now significantly faster than before.
Give it a try
If you haven't already used BrowserCheck, go to www.qualys.com/browsercheck to try it yourself or sign up for a free BrowserCheck Business Edition account.