Web Application Firewall Defends Your Web Apps
Last updated on: September 6, 2020
This week at RSA Conference 2014 in San Francisco, Qualys announced the general availability of QualysGuard Web Application Firewall.
QualysGuard WAF is designed to be *the* simple, scalable way to defend your web applications. Using virtual appliances running in either Amazon EC2 or VMware's vCenter platform, QualysGuard WAF sensors (which analyze traffic to and from your applications) can be deployed rapidly with a minimal level of security expertise. It uses a new approach to strong web app security that evolves and adapts to the changing threat environment.
New Approach: Describe Desired Security, Let the WAF Build the Rules
QualysGuard WAF can be configured and deployed in a matter of minutes in a true highly-available fashion – active/active cluster nodes are the norm, rather than the exception – and can be scaled horizontally to meet the needs of your organization and infrastructure.  Unlike other web application firewalls that require intricate sets of rules be specified for each app, QualysGuard WAF lets you define your desired level of security with just a few clicks. These security goals are automatically translated into the appropriate rules to use within the WAF sensor.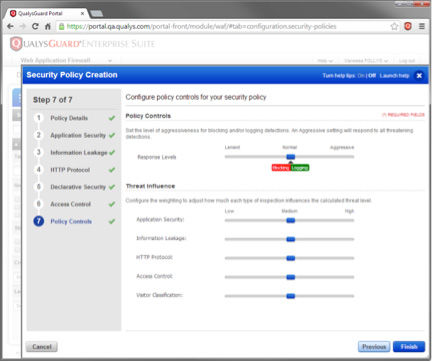 This not only makes robust security easy to set up, it also enables the protection of your applications to improve over time – without any extra effort from you. Qualys's global security research team is constantly coming up with better defenses – these ongoing enhancements are deployed each month and urgent updates are added as needed to combat new exploits found in the wild. These additions are automatically used by QualysGuard WAF to dynamically update the rules used by each sensor.
Visual dashboards for an easy overview and interactive drill-down
QualysGuard WAF makes it easy to understand the security of all your applications at once. A concise, visual dashboard summarizes the various events that have occurred, when they took place, and where they came from to help you spot unusual patterns.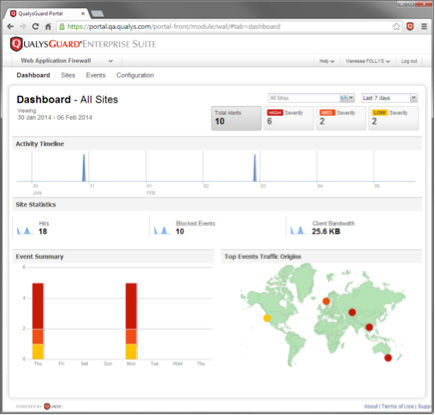 QualysGuard WAF categorizes each potential threat it detects according to a variety of attributes, including: the apps affected, severity, geographic location, source network address, how the threat was handled, and more. Interactive filters help you search for unexpected activity and determine how it impacts your applications.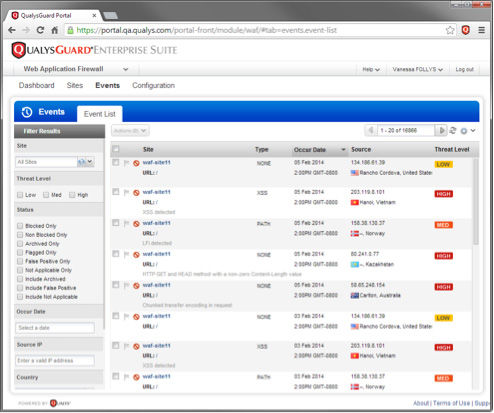 You can then drill into particular events to learn more about them and how to address them: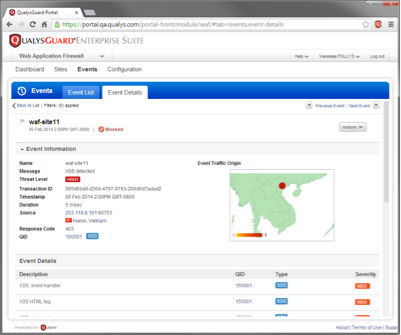 We're very excited to be making QualysGuard WAF generally available. We're also continuing to enhance its feature set, driving more and better interaction with your WAS results and to provide better, more actionable security data to your teams.  We're in Booth 2821 in Moscone North – please feel free to stop by to discuss WAF, your needs, and to walk through our service and see how it truly is groundbreaking in scope.