Qualys Continuous Monitoring 1.7 New Features
Last updated on: September 6, 2020
As we look to extend the benefits of Qualys Continuous Monitoring to cover your organization's various security workflows, one recurring ask has been to include ticketing rules so that you can be informed when an action has been taken on remediation tickets.  We've added support for this in CM 1.7.  Another feature we've added is CVSS scores for CM.  Many organizations prioritize and standardize their vulnerabilities using known scores like CVSS, so we've now added those scores to the rules available under vulnerabilities.
Get Ticket Alerts
Set up your own rules to get alerts when remediation tickets are opened, resolved or closed. Customize your rules with additional ticket criteria (assignee, created/expired dates, type), vulnerability criteria (severity, QID), and/or host criteria (OS, hostname, NetBIOS name).
Go to Configuration > Rulesets > New > Ruleset. Drag the Ticket rule type to the right and customize your rule.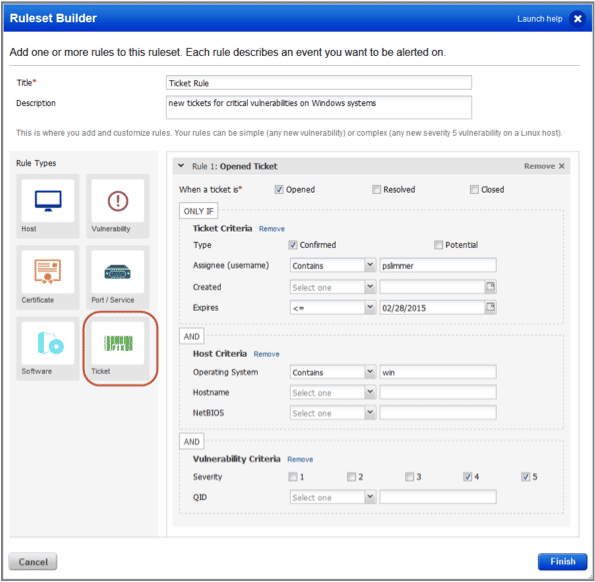 CVSS Score added to Vulnerability Criteria
Tell us the CVSS score(s) you're interested in and we'll generate alerts for vulnerabilities that match.
In this example, alerts will be generated when new vulnerabilities are detected with a CVSS score of 6 or greater.