Qualys MD 2.6.4 New Features
Last updated on: September 6, 2020
Qualys MD (Malware Detection) provides detailed malware infection reports provided along with infected code for remediation on your web applications. The new Qualys MD 2.6.4 release provides better flexibility with notifications and scheduling.
Features highlights include: Email Notification Management Feature and Transfer Schedule Functionality
This feature provides the ability to manage MDS notifications so that not just the scan scheduler receives the notifications, but you can designate alternate recipients as well. You also receive the ability to manage notifications in the MDS module as well as assign the schedule job to another user in case of the absence of the original scheduler.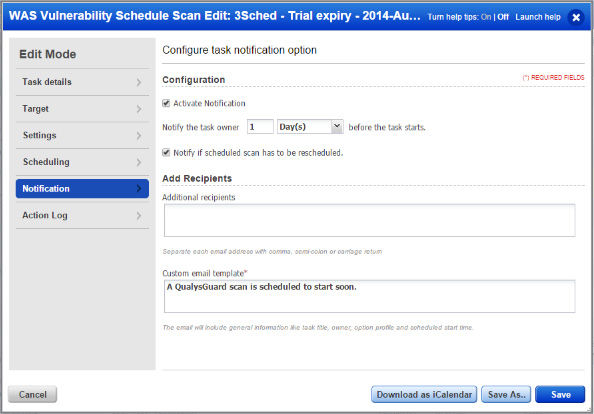 Release Schedule
For details about the release dates for specific platforms and to subscribe to release notifications by email, please see the following:
Qualys MD 2.6.4 Release Notification – Available July 16th, 2015 on US Platform 1
Qualys MD 2.6.4 Release Notification – Available July 13th, 2015 on US Platform 2
Qualys MD 2.6.4 Release Notification – Available July 15th, 2015 on EU Platform