Qualys Helps Consultants, MSPs Deliver World-Class Security Services To Mid-Size Customers
Last updated on: September 6, 2020

With the newly available Qualys Consulting Edition, consultants and MSPs can now individually manage their mid-market client networks, keeping data separate and organized. This lets them offer their clients tailored, personalized services, with valuable insights and recommendations for threat prevention, detection, and response.
The solution's flexibility allows consultants to customize the deployment and setup for each client's unique environment. It's all based on the highly-scalable Qualys Cloud Platform, which is trusted by many of the world's largest businesses and service providers.
The problem consultants face
Security consultants and MSPs are a lifeline for small and mid-size organizations that lack in-house expertise and resources to secure their IT environments.
This statement is more true today than ever before. As mid-size organizations adopt cloud services, mobile computing, and other technologies to digitally transform their businesses, securing their IT infrastructure becomes increasingly more challenging.
The challenge of this practice is accurately managing and prioritizing client data while developing actionable plans for remediation to reduce risk. Another obstacle consistently faced by these consultants is providing scalable and flexible services.
The ability to adapt to your clients' needs is essential. Approaching your client environments and every engagement situation with a unique perspective is crucial. The solutions and tools applied should provide the precision and accuracy that your clients expect, as well as scale appropriately to accommodate your organization's growth.
The tools available to these consultants and MSPs, although capable of aiding in the management and monitoring of client environments, have never directly catered to the needs of firms that assess vulnerabilities and recommend remediations to their clients.
No more compromises
Qualys Consulting Edition allows consultants and MSPs to deliver world-class security and compliance services to mid-size organizations, and to manage those engagements individually.
Qualys Consulting Edition offers:
Multi-tenancy:

Security service providers can easily organize and manage data from their multiple clients from a central dashboard. For example, as consultants conduct scans, results are directly associated with the appropriate client records. 

Meanwhile, managed service providers (MSPs) can segment clients' unique network environment, so each one's IP spaces and data are stored individually, even when identical IP address ranges are shared by multiple clients. A major benefit is the ability to collect and save trending information, which allows for rich historical analysis of each client's data.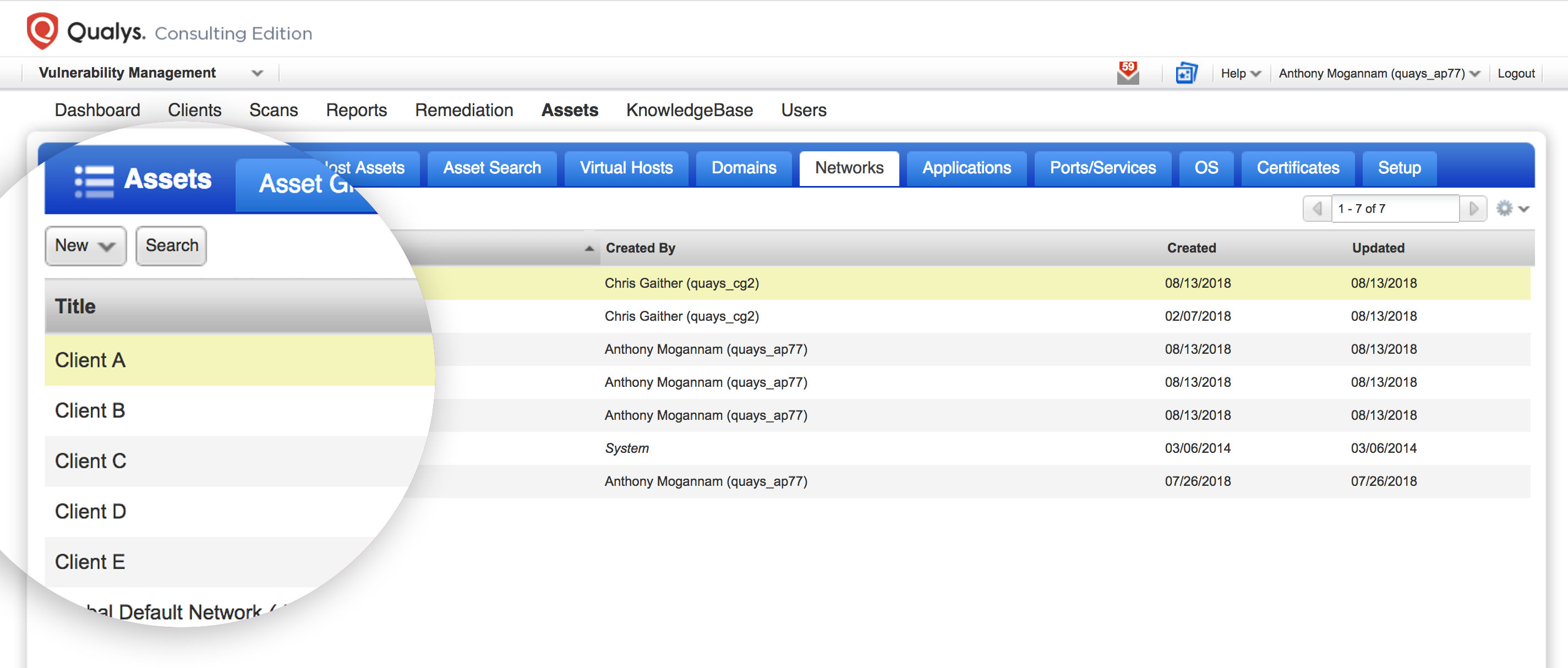 Flexibility and Comprehensiveness:

Service providers can cater to clients with a variety of needs and scenarios, including quarterly snapshots of an organization's security and compliance posture, or continuous detection and response. 

They can offer a broad range of services, including vulnerability management, policy compliance, and web app scanning, across IT assets located on premises, in clouds and at endpoints. This breadth of coverage is possible thanks to Qualys' versatile set of sensors, including local, virtual and cloud scanners; Cloud Agents; and an upcoming passive network sniffer. Furthermore, all processes can be automated within the platform using the included API.
Actionable Reporting:

Create client-focused reports that show vulnerability trending and that can be exported in a variety of formats (HTML, DocX, MHT, XML, PDF, CSV). With granular customization of report templates, you can add your logo and personalize reports with your organization's branding.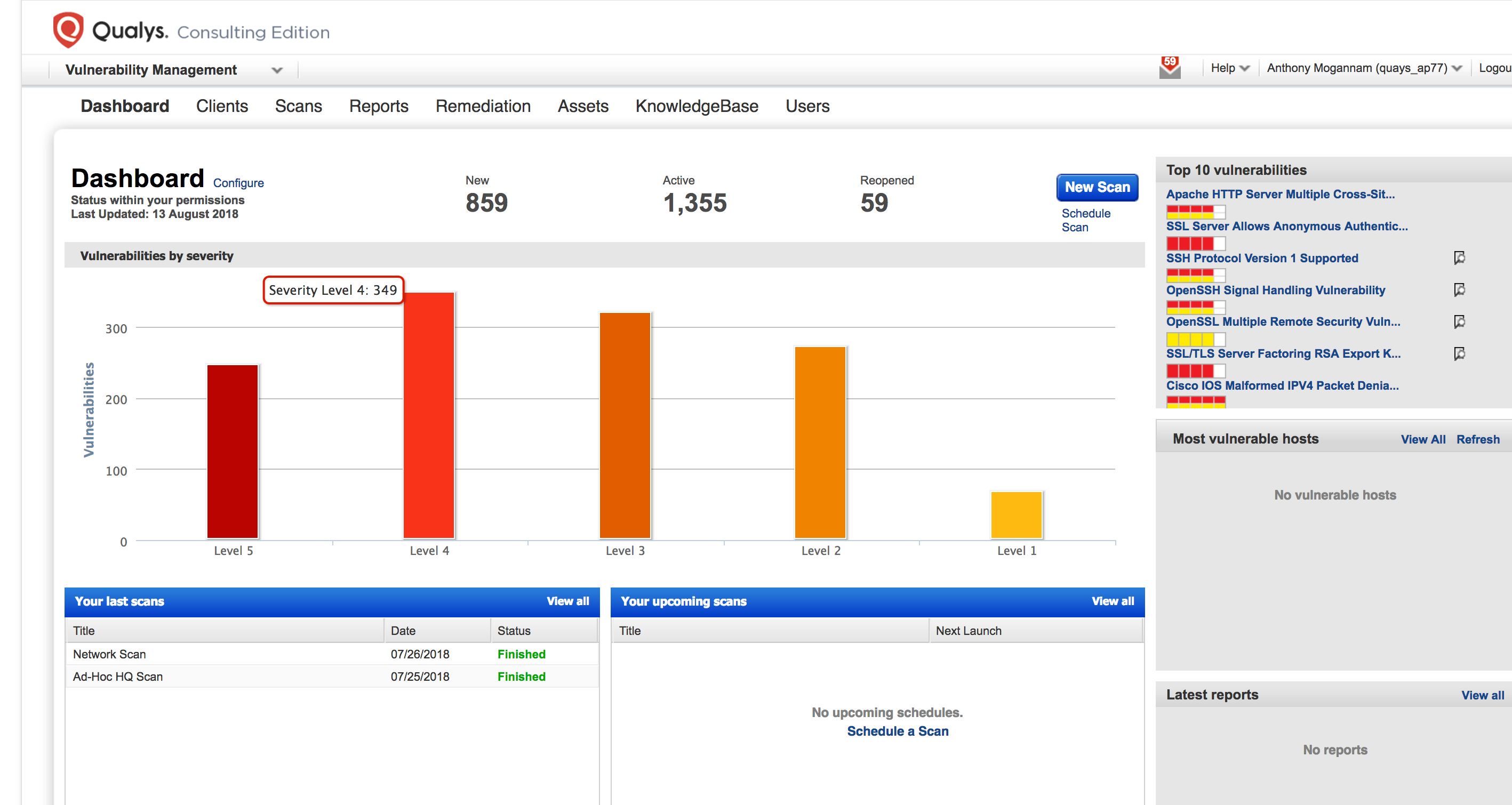 With Qualys Consulting Edition, security consultants and MSPs can elevate the quality and breadth of their offerings, and bring protection to the digital transformation efforts of mid-market businesses that so urgently need it.
(Anthony Mogannam is Qualys' Product Manager for SME/SMB Solutions)