Top 5 Reasons to Attend Qualys Security Conference 2020 San Francisco
Last updated on: September 6, 2020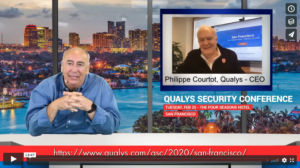 Are you interested in exploring the profound impact of digital transformation on the security industry, and how that impact affects practitioners? Are you planning to be in San Francisco during #RSA Conference week?
If yes, join us at Qualys Security Conference 2020 San Francisco on February 25!
Here are the top 5 (other) reasons you should attend:
Experience the VMDR Launch
The game-changing Qualys Vulnerability Management, Detection and Response (VMDR) solution automates your entire vulnerability management process and significantly accelerates your ability to respond to threats. Learn how you can discover, assess, prioritize, and patch critical vulnerabilities in real time and across your global hybrid-IT landscape, all from a single solution.
Learn about the Future of Qualys Cloud Platform
Qualys introduces the cool innovations and extensions to our Cloud Platform that we are planning to bring to market this year. If you're already a customer using the Qualys Cloud Platform, or you're a prospect considering it, this is the place to meet Qualys executives and engineers and learn everything you want to know about Digital Transformation, Cloud, DevOps, Vulnerability Lifecycle and more! Check out the packed agenda.
Chat with Qualys Customers
Hearing from Qualys is great, but what's more valuable is hearing from Qualys customers. Some of Qualys' biggest customers will be there. You can find out why they chose Qualys, and perhaps pick up some tips and tricks from people who are using the Qualys Cloud Platform in the real world every day.
Keynote from Scott Crawford
Scott Crawford, Research Vice President at 451 Research, explores the Digital Transformation's drastic impact on cybersecurity. Learn why organizations need to integrate asset visibility with vulnerability management, identify the exposure of those assets in real time, remediate based on prioritization of real-time threat indicators with asset context, and then audit the process.
Make the most of #RSAC Week
Rather than watch another high-level presentation on the conference floor, join us in the stylish and comfortable Four Seasons Hotel just blocks away from Moscone Center. Get in-depth views of cutting-edge technology and see how leading companies are securing their global hybrid IT environments. Don't forget to join us Wednesday night for our Private Reception.
There you go. The clock is ticking. Qualys Security Conference 2020 San Francisco takes place on Tuesday, February 25 during RSA Conference week. Join us!