Introducing Enterprise TruRisk Management from Qualys

Since the release of Qualys VMDR 2.0 with TruRisk last year, our customers have quickly adopted it to perform cyber risk assessments across the entire enterprise. With detail-rich cyber risk visualization, customers can now pinpoint the areas of their business exposed to elevated levels of cyber risk. This new risk-based approach to cybersecurity has been a game changer for our customers and has sparked conversations to be more focused on helping translate their investments in cybersecurity tools to an overall risk reduction where both security and IT teams are equal stakeholders.
Over the last year, in our conversations with customers, the common theme was as follows:
We have multiple cybersecurity solutions deployed in the organization, and each solution has its own interpretation of cyber risk. We need a unified view of cyber risk so that all our teams can speak and understand a uniform language.
Not only is data dispersed across multiple tools, but business and asset context are also missing. Security and IT teams are manually correlating data from different systems to assess risk. We need a scalable and automated way to consolidate critical findings from different tools and provide a single source of truth.
Threats are proliferating and weaponizing faster than our security and IT teams can remediate issues. They are manually prioritizing, integrating and remediating in different tools. We need a way to automate integrations with ITSM tools like ServiceNow and Jira to reduce their manual efforts and streamline their remediation process.
Get a unified view of cyber risk with Enterprise TruRisk Management
To address these challenges, we are thrilled to announce the preview availability of Enterprise TruRisk Management (ETM). A new solution to get a unified view of cyber risk across the organization.
ETM extends the reach of the Qualys Cloud Platform by ingesting data from third-party security and IT tools, empowering enterprises to bring external findings into the Qualys ecosystem for context-informed insights. ETM provides a unified view of cyber risk, turning data into actions with a single, powerful cyber risk management program that can be deployed across the entire, extended enterprise.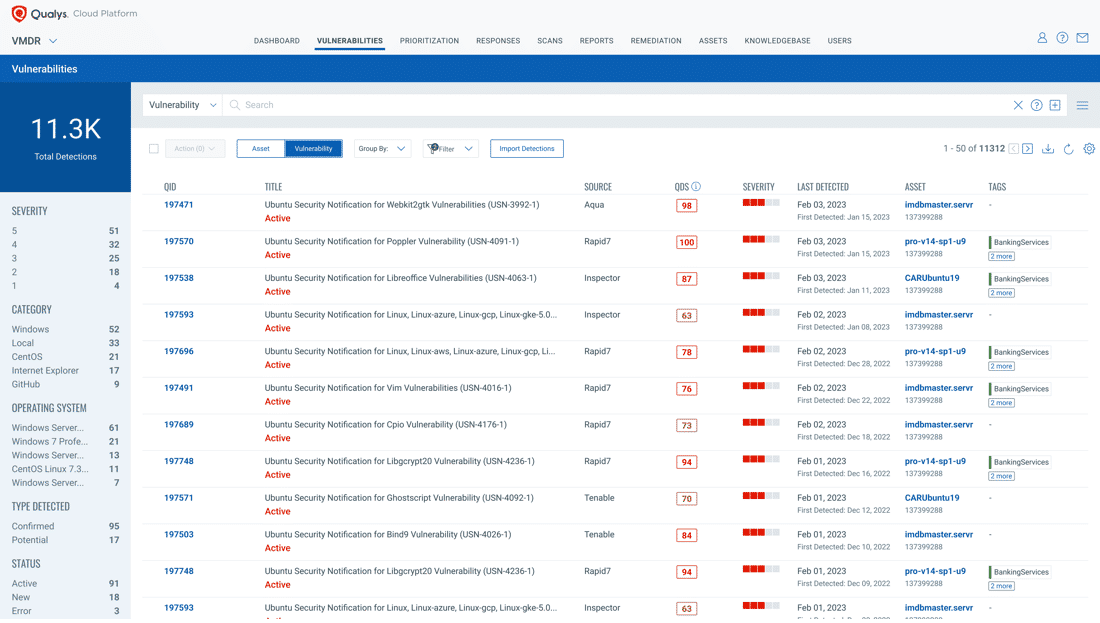 In addition, the solution consolidates cybersecurity reporting within the Qualys Cloud Platform, leveraging the extensive Qualys Threat Database. This eliminates the need for costly data lakes and difficult-to-manage proprietary tools, allowing enterprises to focus on what really matters – mitigating cyber risk. This also helps in communicating cyber risk to key stakeholders in a uniform and consistent manner.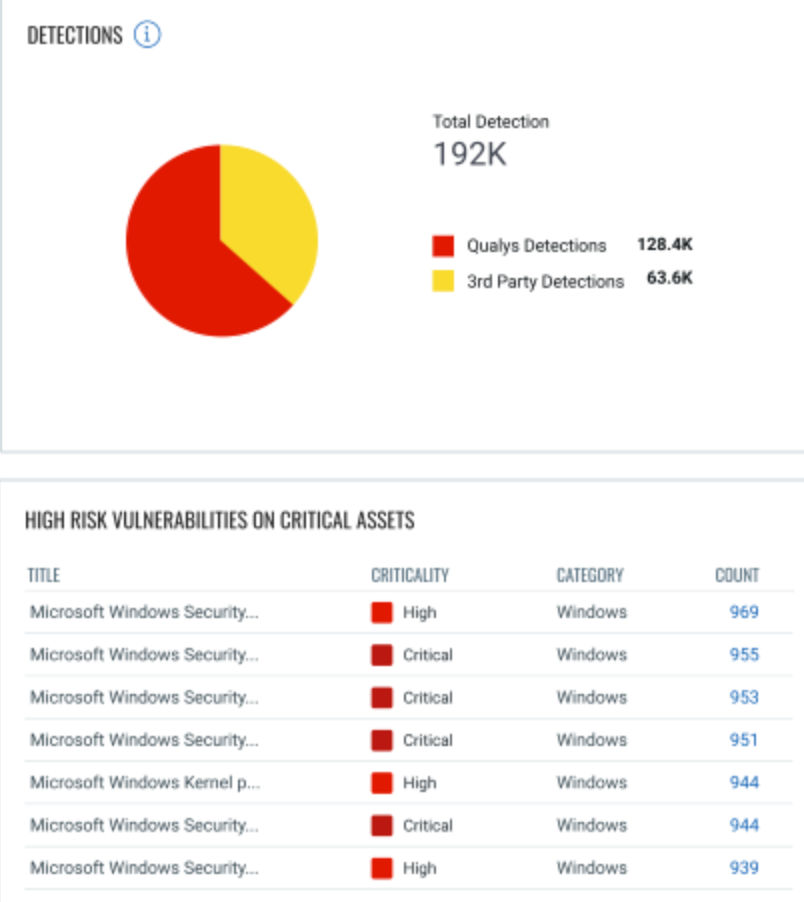 With our easy out-of-the-box integrations with various ITSM tools for automated orchestrations, security and IT teams can now focus on reducing risk faster by spending efforts on remediating the most critical issues first.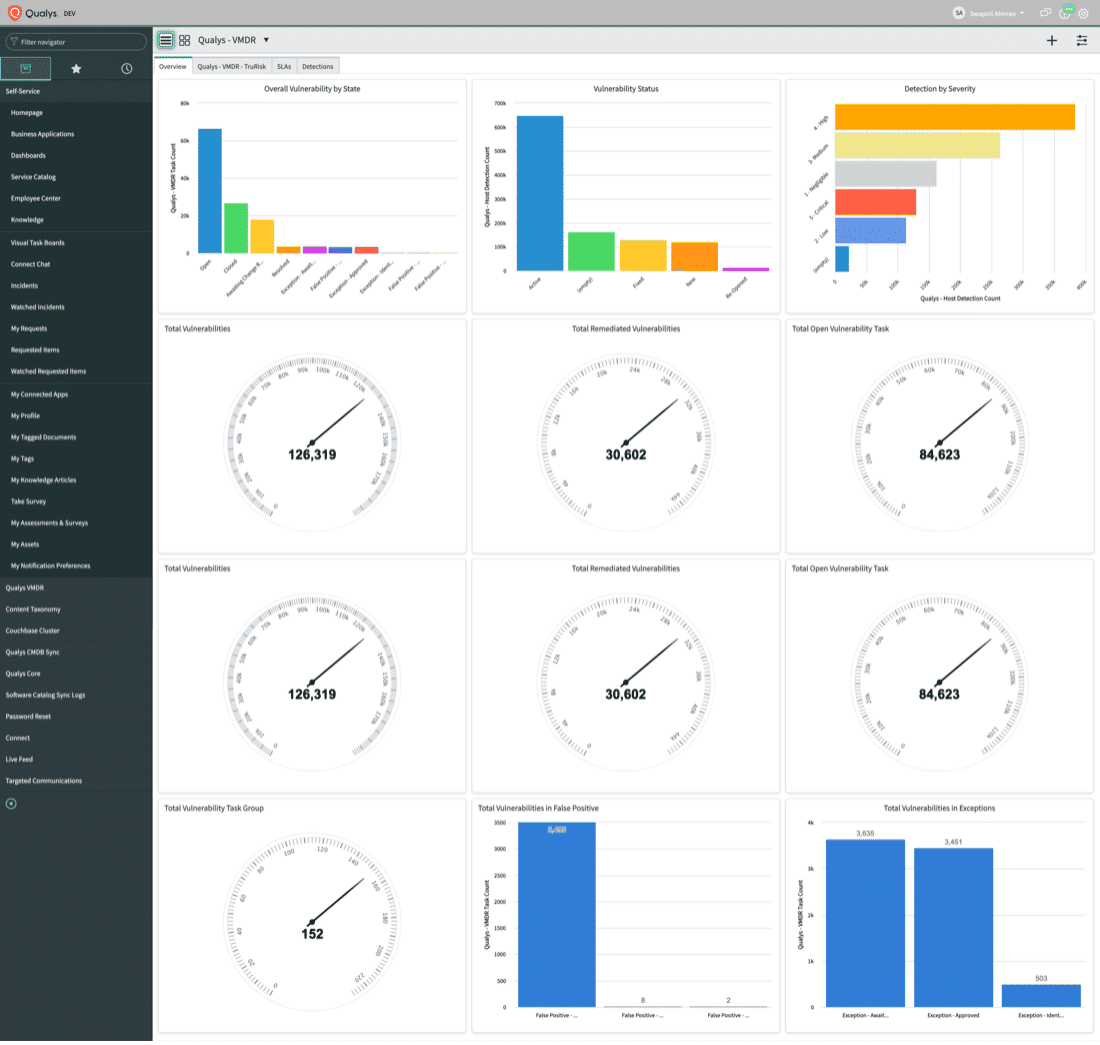 To summarize, with ETM enterprises get a unified view of their cyber risk posture. Security and vulnerability findings from third-party tools are ingested into the FedRamp-authorized Qualys Cloud Platform, they are normalized and enriched with Qualys Threat research intelligence, business and asset context are applied for better assessment, prioritization and remediation.
Qualys Cloud Platform becomes the single source of truth and drives data-driven conversations amongst key stakeholders leveraging the world-class reporting and dashboard capabilities.
Enterprises can now reduce risk efficiently and faster with automated orchestration and integration with ITSM tools like ServiceNow and Jira. Security and IT teams can collaborate and start fixing what's most impactful to improve their cyber risk posture.
We invite you to sign up for the preview today and see for yourself how Enterprise TruRisk Management can help you manage your cyber risk in a comprehensive, efficient, and unified manner.
Additional Resources