TotalCloud Empowered with CloudView Integration
Last updated on: June 14, 2023
Qualys, a leading provider of cloud-based security and compliance solutions, offers Qualys TotalCloud – a unified vulnerability, threat, and posture management solution. This solution simplifies cloud infrastructure security by combining essential components such as Cloud Workload Protection, Cloud Security Posture Management, Cloud Detection and Response, and Container Security, covering security from development to runtime.
We are pleased to announce that the CloudView product is integrated into TotalCloud, allowing a consolidated view to identify misconfigurations and vulnerabilities. This integration empowers IT and Security teams to efficiently monitor and address potential risks through a unified dashboard, streamlining their operations. It's time to take your cloud security to the next level with Qualys TotalCloud.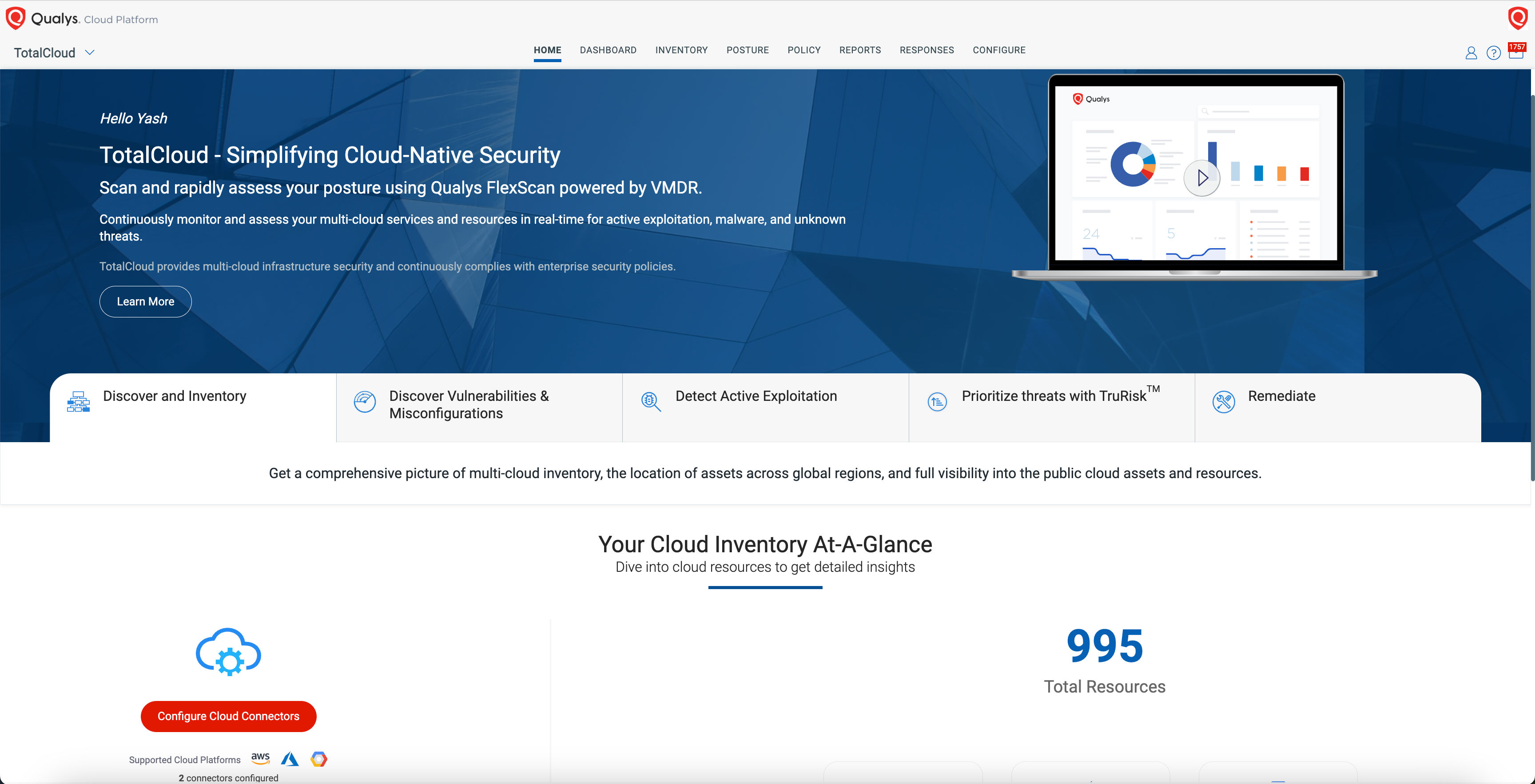 What's new in TotalCloud?
The latest update to Qualys TotalCloud introduces several new features and enhancements. Here are some highlights of what's new:
Integration of CloudView (CSPM and IaC Security): TotalCloud now includes the seamless integration of the CloudView product. This integration provides a unified view for identifying misconfigurations and vulnerabilities, allowing IT and Security teams to effectively manage and mitigate risks from a single dashboard.
Enhanced Cloud Workload Protection: TotalCloud now offers advanced capabilities for protecting cloud workloads. It includes improved threat detection and response mechanisms, ensuring that your cloud infrastructure remains secure against evolving threats.
Integration with Git and CI/CD Tools: The TotalCloud product now seamlessly integrates with popular Git and CI/CD tools. This integration provides visibility into cloud misconfigurations and non-standard deployments during the pre-deployment stage, enabling efficient collaboration and enhanced effectiveness.
Improved Performance: Our product engineering team has diligently worked on optimizing the performance of our product. As a result of these efforts, we have achieved notable improvements in performance, including faster loading times, quicker response rates, and smoother operations.
New License Model: With the new licensing scheme Qualys Unit (QLU), you now have the flexibility to explore and leverage various cloud security offerings. Whether you require Cloud Security Posture Management (CSPM), Cloud Workload Protection (CWP), Cloud Detection and Response (CDR), or Container Security, you can easily switch between these options based on your specific needs.
These updates to TotalCloud are designed to empower organizations to simplify their cloud security and compliance efforts while enhancing visibility and control over their cloud environments.
What happens to my CloudView deployment and licenses?
Your existing CloudView deployment and licenses remain unchanged: The latest TotalCloud update has no impact on your current setup or licenses. You can continue utilizing the product without any interruptions or modifications.
Here are the updates for existing CloudView customers transitioning to TotalCloud:
The CloudView module will go away and be replaced with the TotalCloud module.
TotalCloud appears in the module picker under the Cloud Security section of the Qualys Platform. All the features of CloudView are now available within TotalCloud.
The tab structure has been enhanced during the transition to TotalCloud. For more details, please refer to the product documentation.
In the Connectors application, the selected CloudView Application has been renamed as Cloud Security Posture Management (CSPM). There will be no other changes to your deployed Connectors.
Additionally, for TotalCloud customers, we have introduced the Configure FlexScan button in the Connectors application.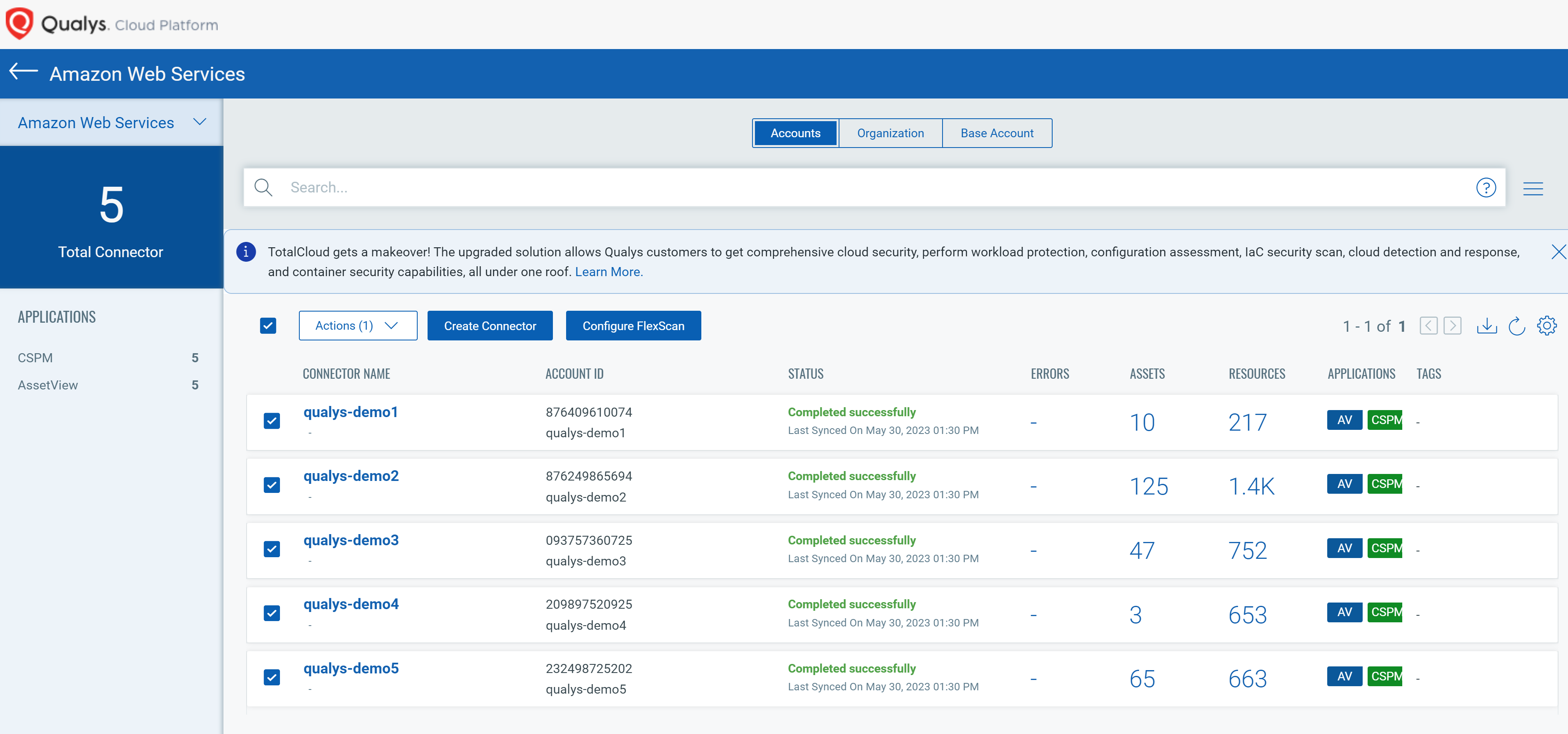 CloudView permissions are now integrated within TotalCloud under the Administration settings.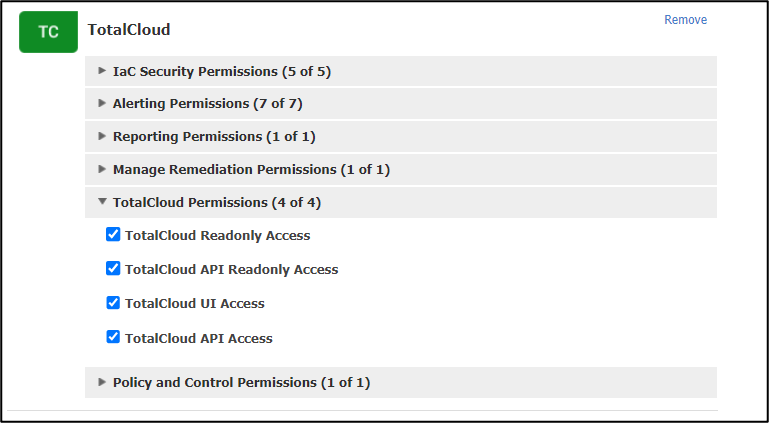 REST APIs provided by CloudView remain unchanged, allowing you to continue using them with existing URLs and input parameters within TotalCloud. Your existing integrations relying on these APIs will continue to work seamlessly.
There are no changes to your licensing as an existing CloudView customer. Your current licensing remains unaffected.
When raising Technical Support tickets and submitting Feature requests, you will now use TotalCloud. The transition to TotalCloud does not alter the process for seeking support or making feature-related inquiries.
These updates aim to provide a more integrated and comprehensive experience for existing CloudView customers transitioning to TotalCloud.
Qualys Documentation and Community Portal
Documentation: Refer to the product documentation for detailed information and guidance on TotalCloud. It provides comprehensive instructions and resources to help you maximize the benefits of the updated features and functionalities.
Getting Started with Qualys TotalCloud
Release Notes: Cloud Security Assessment (CloudView) release numbers will now be tracked as TotalCloud. However, the TotalCloud release notes will also reference the original CloudView release numbers, e.g. CloudView 2.0, CloudView 2.1.0, CloudView 2.2.0, etc. This allows you to easily filter and access information using CloudView and TotalCloud filters, ensuring you can find the specific details you need for each release.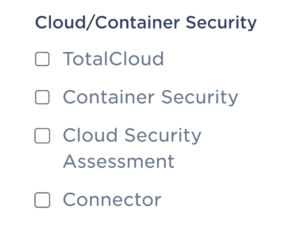 Continuity in Discussions and Content: You will still find existing discussions, articles, and blogs related to "Cloud & Container" category. You can also contribute new discussions and posts under the same category, ensuring the continuity of valuable conversations and content related to cloud and container topics.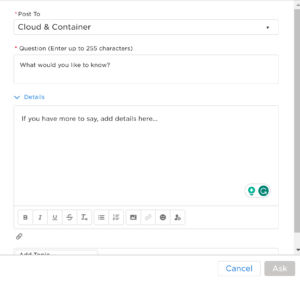 Deployment Updates
TotalCloud release 2.4.0 brings important updates that enhance the functionality and experience of the product. These updates aim to provide a more robust and efficient tool for securing your cloud infrastructure. The release is scheduled for deployment in the first half of June 2023, ensuring you can benefit from the latest advancements and optimizations in TotalCloud.
If you encounter any issues or disruptions during a deployment, we recommend reaching out to your designated account manager or customer support representative for assistance.
Your feedback is valuable to us. Please explore the updated product, try out the new features, and share your thoughts. We appreciate your input as we strive to improve and meet your needs effectively. Provide feedback
Learn More about Qualys TotalCloud