Qualys Named a Leader in KuppingerCole CSPM Report

Cloud Security Posture Management (CSPM) is a crucial requirement in cloud security. CSPM is all about identifying misconfiguration issues and compliance risks in cloud environments. Since cloud misconfigurations are the leading cause of data breaches, you want an excellent CSPM solution on your side!
There are many choices for CSPM, one of which is Qualys TotalCloud. If you are considering approaches for CSPM, an excellent comparative resource is the new KuppingerCole Leadership Compass 2023: Cloud Security Posture Management.
(Full Disclosure: Qualys was named An Overall Leader and a Market Leader by the report. I am not biased, but the report's analysis is fair and worthwhile. Carry on!)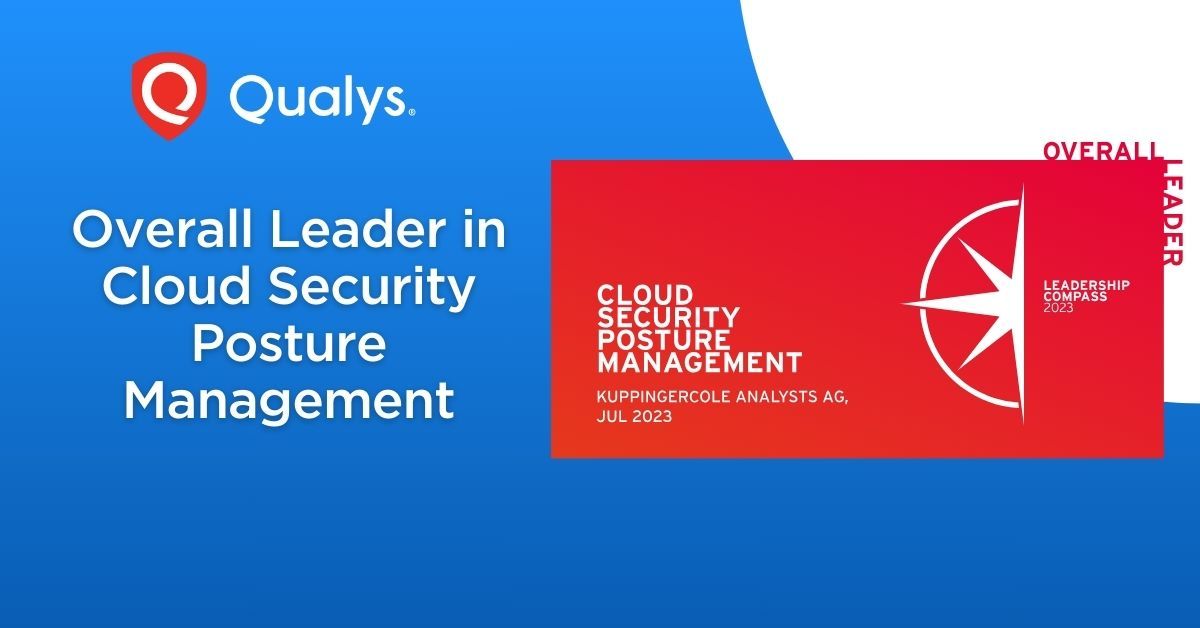 "Overall Leaders are identified based on a combined rating, looking at the strength of products, the market presence, and the innovation of vendors," states the report.
What's In the Report?
The report is handy in providing a summary of issues that concern buyers, and it is a valuable evaluation guide detailing significant features of 15 competing solutions – with at-a-glance snapshots of critical capabilities for CSPM functionality that are important for large, hybrid-cloud environments:
Basic Functionality
Network Risks
Compute Risks
Data Risks
DevOps Risks
User Risks
Risk Reporting
Compliance Support
Significant Insights About Qualys From The Report
The report describes Qualys TotalCloud CSPM as "a cloud-native, agentless security solution that provides cybersecurity risk and compliance assessment of a customer's cloud infrastructure." It describes the Qualys CSPM solution as "part of a complete CNAPP platform" for all major public clouds. Other platform elements include Infrastructure as Code (IaC), Cloud Workload Protection Platform (CWPP), Cloud Detection and Response (CDR), Kubernetes, and container Security.
In addition to reviewing significant features of Qualys TotalCloud CSPM, the report noted several specific strengths of the offering, including:
Multiple assessment options (agent, agentless) for high accuracy (Six Sigma) vulnerability detection.
Prioritizes misconfigurations, vulnerabilities, and assets based on their business criticality and risk.
Integrated with CI/CD tools and ITSM solutions with all features accessible via REST APIs.
Out-of-the-box support for over 30 security frameworks, best practices, industry regulations, and more than 1,000 predefined controls and custom options.
Download the Report
Check KuppinerCole's report to get the analysts' insights and why they named Qualys an Overall Leader and Market Leader.
Download your copy of the KuppingerCole Leadership Compass 2023: Cloud Security Posture Management.
Try TotalCloud in Your Environment
Based on the KuppingerCole report's award to Qualys as an Overall Leader and Market Leader, I urge you to try Qualys TotalCloud in your environment. Connecting your clouds and quickly achieving a comprehensive view of enterprise hybrid cloud security is easy.
Qualys TotalCloud will simplify your cloud-native security process to automate vulnerability management, detection, and response with the industry's most accurate vulnerability detection and response cloud platform. Click here for your free trial.