No Security without Visibility: QSC16 to Focus on Helping Enterprises Regain Clarity into Their IT Environments
Last updated on: October 27, 2022
Qualys will hold its flagship conference this week in Las Vegas, where our executives will host customers, partners and industry experts. This year's main topic will be the urgent need for clarity when securing IT environments.
Cloud computing, mobility, IoT and other technology trends have shaken up enterprise security by extending and blurring the frontiers of traditional network perimeters. As hackers aggressively look for ways to exploit new vulnerabilities created by these shifts, CISOs need a comprehensive, unobstructed, continually updated view of all their IT assets and corresponding vulnerabilities.
Over the course of two days at QSC16, attendees will be able to talk about this and other pressing infosec issues, network, exchange best practices and get the latest technology and product roadmaps from Qualys.
If you're not able to make it out in person to Las Vegas, you can check out this blog, where we'll be posting articles about most of the sessions, which include keynotes by industry visionaries, panel discussions, real-world case studies by Qualys customers and partners, as well as product use cases showcasing best practices for the Qualys suite of applications.
Highlights from the QSC16 agenda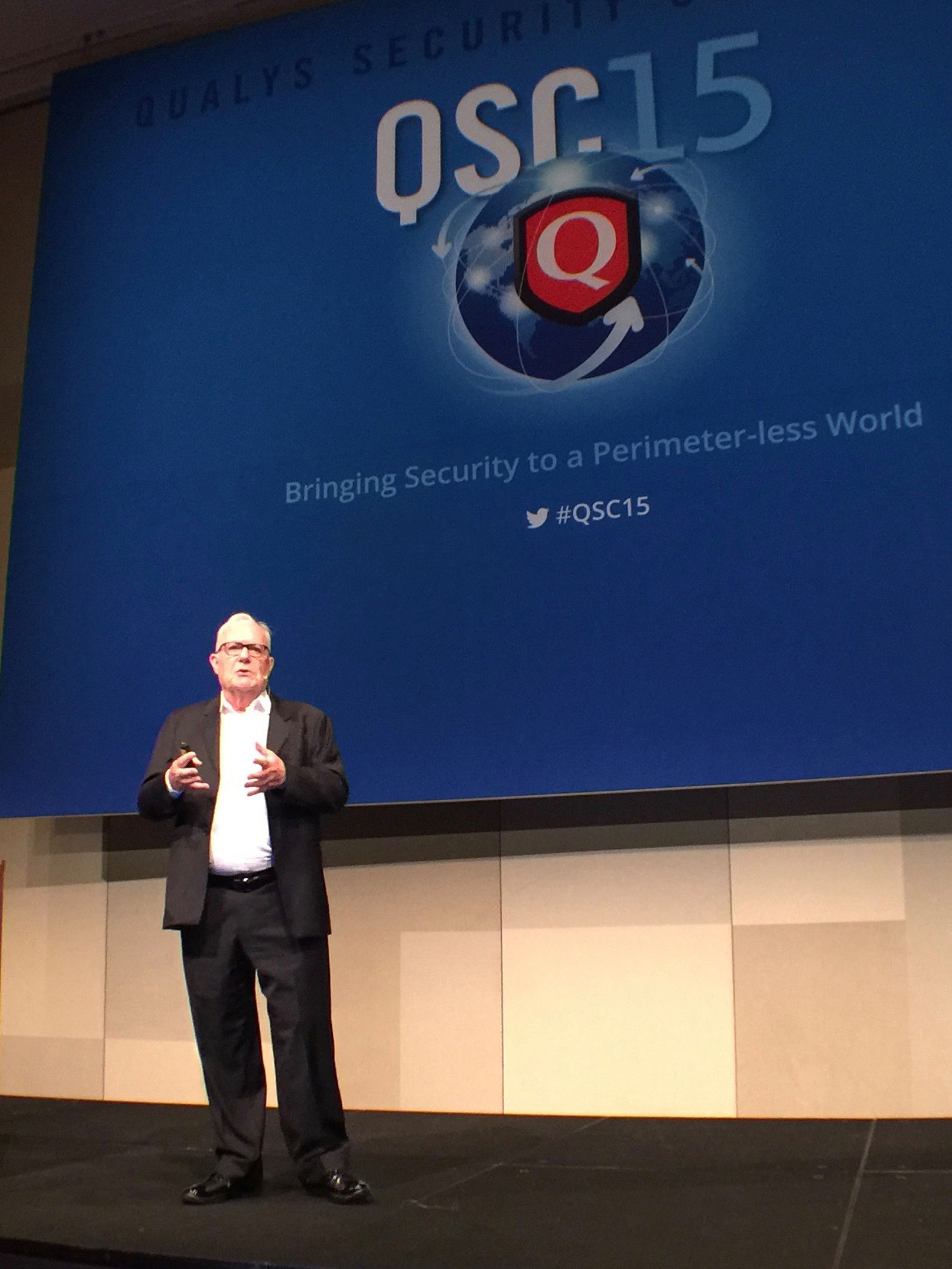 The proceedings will kick off on Wednesday morning with a keynote from our CEO and Chairman Philippe Courtot, who will talk about Qualys' role in the security market's vendor consolidation trend.
Philippe will be followed by our Chief Product Officer Sumedh Thakar, whose one-hour presentation will cover Qualys' product and technology achievements in 2016, as well as outline our 2017 product roadmap.
Sumedh will then be joined on stage by VP of Cloud Agent Product Management Chris Carlson and by Product Management Director Tim White for a session devoted to showcasing new innovations and additions to our platform.
After lunch, Gerhard Eschelbeck, Google's VP of Security and Privacy Engineering — one of several distinguished guests — will give us a rare inside peek as the security head of one of the world's biggest tech companies and hacker targets.
Next up are three back-to-back sessions led by several of our product management leaders, offering a deep dive on a number of our products, including the recently released ThreatPROTECT and Security Assessment Questionnaire.
Day one will wrap up with what will surely be an insightful keynote from Forrester Senior Analyst Joseph Blankenship titled "DeDOSing IT Security" about how many security teams are drowning in a deluge of data that they can't make proper sense of.
Thursday will start with the keynote "Only the Strong Survive" from Mike Rothman, President of analysis and research firm Securosis, who will offer battle-tested advice for security executives grappling with today's challenges, such as a skills shortage, increased pressure from the C-Suite and increasingly skilled and aggressive hackers.
Mike's presentation will be followed by four sessions from partners EiQ, LogRhythm, Splunk and Verisign in which they will touch on a variety of angles related to topics such as vulnerability management, remediation prioritization and application security.
We'll close out the morning with a pair of customer success stories focused on vulnerability management by Liz McQuarrie, Principal Scientist, Director of Security Operations at Adobe, and by Nathan Cooper, Senior CyberSecurity Analyst at Geisinger Health Systems.
After lunch, our product management leaders again take center stage during several sessions in which they'll lay out use cases for AssetView and ThreatPROTECT, explain best practices for using our APIs (application programming interfaces) and talk about scanning cloud instances and containers.
We'll wrap up QSC16 with a keynote by Slate columnist, author, and Pulitzer Prize winner Fred Kaplan titled "Cyber Conflict: Prevention, Stability and Control." Kaplan will also be signing his new book "Dark Territory: The Secret History of Cyber War."
Qualys and the InfoSec Market Are at a Historically Important Point
After spending years evangelizing the benefits of our cloud model, we're finally seeing the broader market come around and recognize that our cloud architecture indeed represents the future of enterprise security software.
Moreover, Qualys' research and development is firing on all cylinders, as our pipeline pumps out new, cutting-edge products at an increasingly swift pace. With recently released products like Cloud Agent, Security Assessment Questionnaire and ThreatPROTECT, as well as new ones coming out soon, we now have the most comprehensive, scalable and extensible enterprise security cloud platform in the industry.
As enterprises accelerate digital transformation efforts, it has become increasingly difficult to secure computing environments. Why? Organizations have lost the visibility they once had into their IT environments when their networks were less interconnected.
In a misguided attempt to secure these new environments, many organizations are accumulating heterogeneous on-premises security solutions. They are ending up with a smorgasbord of systems that do not play well together and can't protect this new perimeter, blurred by mobile devices and cloud instances.
"Security must be drastically simplified and security solutions must adapt rapidly to the new computing environment. It must be built in rather than bolted on," says Courtot.
"At this conference, we will discuss how you can regain the visibility to secure your digital assets, as there is no security without visibility," he adds. "We will also discuss how, by embracing cloud-based security and compliance, we help our customers move more quickly, effectively and safely into this new Digital Age."
Follow us here on our blog so you can stay on top of all that will be happening at QSC16. If you're attending, be sure to share your favorite moments on social media using our hashtag #QSC16.