Adobe Reader 0-day – Update 3 – patched
Last updated on: September 7, 2020
Update 3:
Today, February 20, Adobe released the patch APSB13-07 for Adobe Reader and Acrobat. It addresses 2 CVEs (CVE-2013-0640, CVE-2013-0641) and should be rolled out immediately due to the attacks in the wild. Excellent turn-around time by Adobe.
Update 2:
Adobe
announced
a patch for Adobe Reader and Acrobat for next week, the week of February 18.
Update:
Users of the newest version of Adobe Reader, XI can enable "Protected View" to mitigate the attack by going to Preferences, Security (Enhanced). Protected View opens the file in an additional Sandbox that disables most Adobe Reader XI advanced features, but should be sufficient to read normal PDF documents.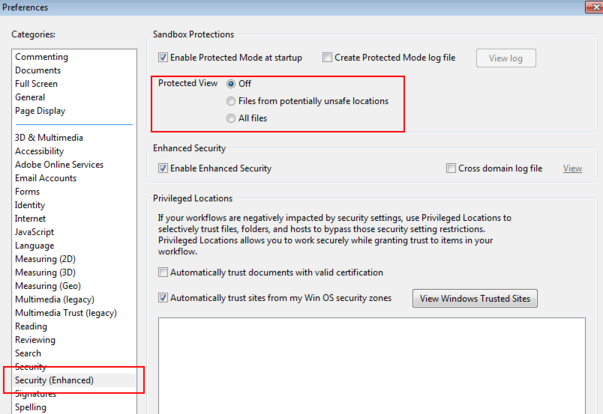 Original:
Adobe has
acknowledged
reports of a new 0-day for its Adobe Acrobat and Adobe Reader line. According to the initial report by
FireEye researchers that detected the attack
all currently supported versions 9, 10 and 11 are affected.
There is currently no information on workarounds available, short of not using PDF documents. Stay tuned for more updates.