The Best of OWASP – Global AppSec Conference and the 2013 WASPY Awards
Last updated on: September 7, 2020
The recent Global OWASP AppSec conference the week of November 18 – 22 at the Marriott Marquis in New York City was a great way to learn more about the latest trends in application security and exchange ideas with other application security professionals.  The conference included updates on many of the OWASP projects as well as some interesting presentations such as:
OWASP Zed Attack Proxy – Simon Bennetts
Hack.me: a new way to learn web application security – Armando Romeo
The Perilous Future of Browser Security – RSnake
But the highlight of the show for me was the presentation of the 2nd annual Web Application Security People of the Year (WASPY) Awards. The awards were created in 2012 to honor the top OWASP contributors in a number of different categories. Nominations for the different categories started in May of 2013 and then voted on during the OWASP annual elections in September. So the WASPY award winners represent the best of OWASP as voted on by the OWASP membership.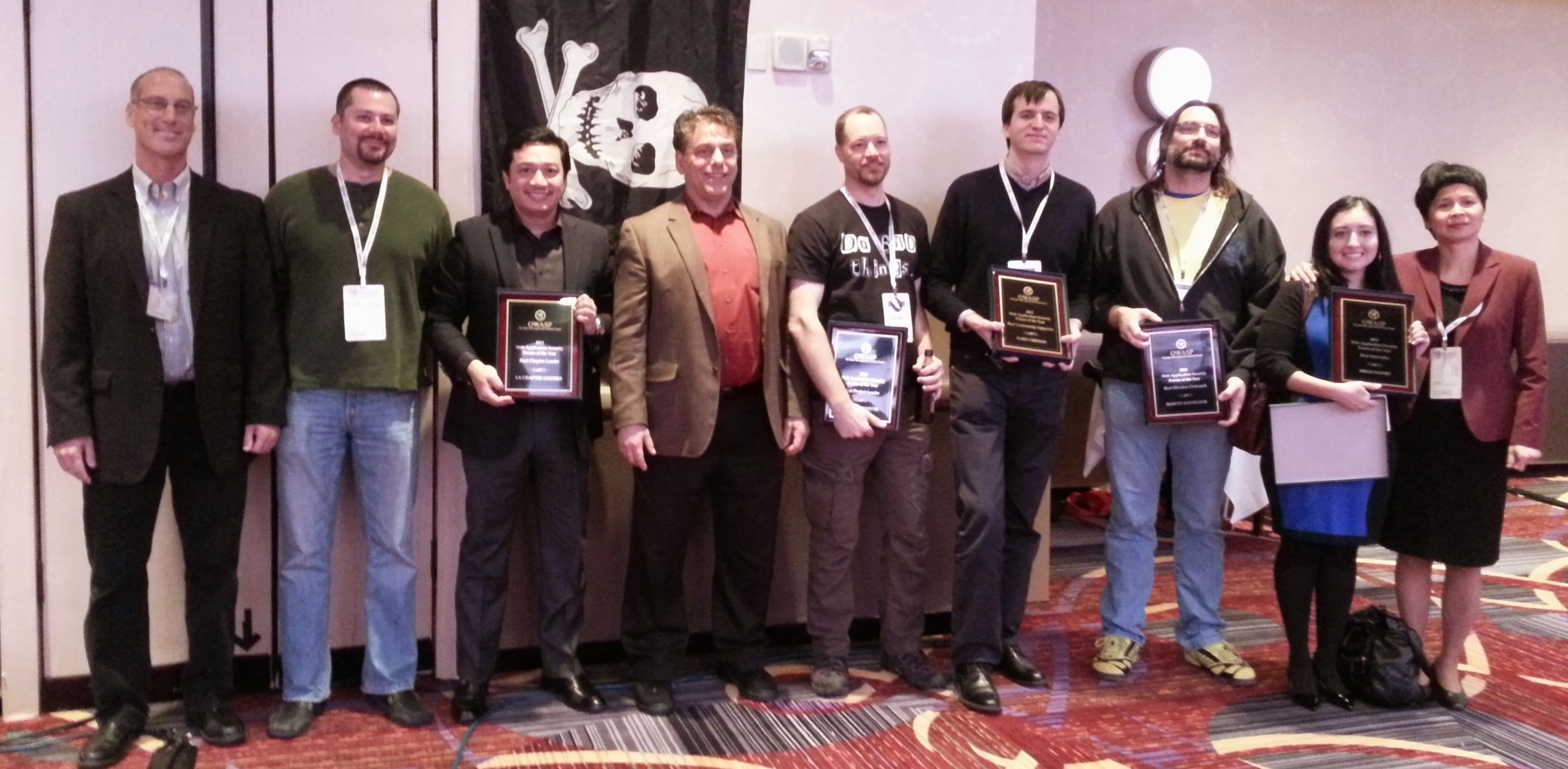 From right to left: Helen Gao (2012 winner), Representative for Abbas Naderi, Martin Knobloch, Fabio Cerullo, Simon Bennetts, Richard Greenberg, Tin Zaw, Edward Bonver
OWASP decided to update the format this year to include a number of different categories including:
Best Chapter Leader
Best Project Leader
Best Community Supporter
Best Mission Outreach
Best Innovator
The WASPY Awards ceremony was held on the evening of first day of the full conference. Dan Cornell, a principal at The Denim Group, did a fantastic job hosting the ceremony, with Kelly Santalucia and Kate Hartman from OWASP providing support.  Helen Gao, the 2012 winner of the WASPY award, was present and gave an inspirational introduction prior to the awards. Each of the awards included a plaque along with a gift certificate for $1000!
2013 WASPY Award Winners
Congratulations to the 2013 WASPY Award winners:
Best Chapter Leader
Tin Zaw, Richard Greenberg, Kelly Fitzgerald, Stuart Schwarz & Edward Bonver (LA Chapter Leaders)
Best Project Leader
Simon Bennetts
Best Community Supporter
Fabio Cerullo
Best Mission Outreach
Martin Knobloch
Best Innovator
Abbas Naderi
It was a great few days learning about the latest and greatest in web application security in a great location on Times Square, topped off by honoring the best that OWASP has to offer!