BSI Top 10 in a Nutshell: Patch These Software Packages
Last updated on: September 6, 2020
The German Federal Office for Information Security (Bundesamt für Sicherheit in der Informationstechnik – BSI) is responsible for IT security within the German Federal government. In addition they work on IT security standards for Germany and are moving into a national incident tracking function as well. In December 2014 they published their yearly report summarizing the IT security state in Germany as "critical", with attacks rising, German companies leaking data and exposing their infrastructure to even physical damage. Much of it is due to a 'Digitale Sorglosigkeit', a digital carelessness where the IT industry does not pay attention to avoidable threats.
They pointed out a number of products that are constantly under attack and that require your attention to track and patch. They mention an efficiency of 95% for these type of defensive measures.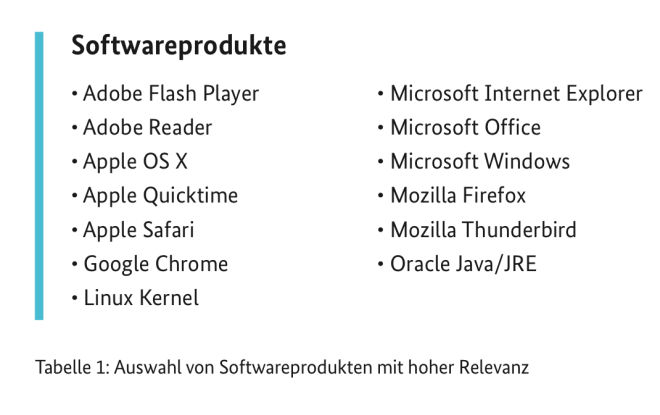 We agree wholeheartedly, even though some of the above mentioned software products seem more urgent than others. Here is our take on the list, we reordered from alphabetical to priority based and struck out software we do not see as attacked as often: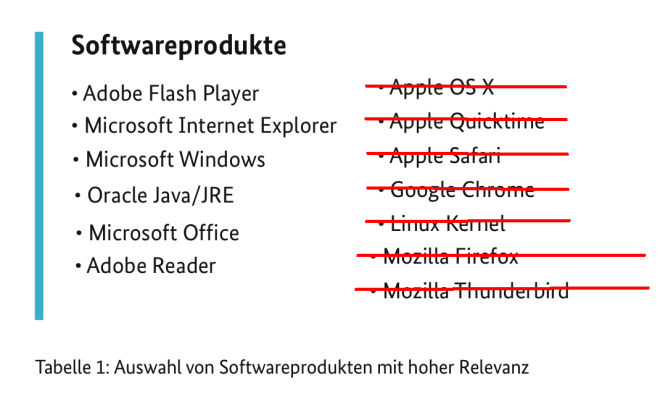 What do you think? Are Google Chrome, Firefox and Thunderbird worth including in your list of high priority items?