Ransomware Targets Outdated VMware ESXi Hypervisors: Protect Your Systems Now!
Last updated on: February 9, 2023
Updated on February 8, 2023 at 2:40 PM Pacific Standard Time: This article has been updated with EVALUATE Vendor-Suggested Mitigation with Policy Compliance (PC)
Updated on February 7, 2023 at 9:05 PM Pacific Standard Time: This article has been updated with the latest information on the ESXiArgs-Recovery Solution, a script offered by the Cybersecurity and Infrastructure Security Agency (CISA) for accessing encrypted virtual machines.
We wanted to bring to your attention a significant ransomware threat recently reported in the cybersecurity community by French national government computer security incident response team (CERT-FR). The ransomware attack campaign targeting the vulnerabilities in VMware's ESXi and Cloud Foundation systems, identified by CVE identifier CVE-2021-21974.
These attacks are taking advantage of the vulnerability of ESXi hypervisors that haven't been updated with security patches quickly enough, with the SLP service being a particular target due to known vulnerabilities (CVE-2020-3992 and CVE-2021-21974). The systems currently targeted are ESXi hypervisors in version 6.x and before 6.7. The CERT-FR confirms that virtual machine disks can be recovered if the .vmdk files are encrypted and renamed with a .args extension.
The attack results from a heap-overflow vulnerability in OpenSLP, which is used in VMware ESXi versions 7.0 before ESXi70U1c-17325551, 6.7 before ESXi670-202102401-SG, and 6.5 before ESXi650-202102101-SG.
Attackers who have access to port 427 on the same network segment as ESXi may be able to trigger the heap-overflow issue and execute remote code, potentially leading to a ransomware attack. This could result in remote code execution. The vulnerability was confirmed and weaponized, being used by the ransomware family ESXiArgs, on February 3, 2023. The vulnerability's Proof of Concept (PoC) was published on February 24, 2021.
The Common Weakness Enumeration (CWE) categories related to the vulnerability include:
Buffer overflow.
Incorrect calculation of buffer size.
Buffer access with incorrect length value.
The vulnerability has been assigned a high severity score by CVSSv3 (8.8) and is considered one of the top 25 most dangerous software errors (CWE Top 25).
Qualys QID Coverage
Qualys has released four (4) QID on 2021-02-25 to cover these vulnerabilities, starting with IP scanning version VULNSIGS-2.5.133-2.
| QID | Title |
| --- | --- |
| 216258 | VMware ESXi 6.5 Patch Release ESXi650-202102101-SG Missing (VMSA-2021-0002) |
| 216257 | VMware ESXi 6.7 Patch Release ESXi670-202102401-SG Missing (VMSA-2021-0002) |
| 216256 | VMware ESXi 7.0 Patch Release ESXi70U1c-17325551 Missing (VMSA-2021-0002) |
| 11699 | VMware vCenter Server Remote Code Execution Vulnerability (VMSA-2021-0002) |
Discover Vulnerable VMware's ESXi Using Qualys VMDR
You can see all your impacted hosts for this vulnerability in the vulnerabilities view by using QQL query
vulnerabilities.vulnerability.qid:[`216258`,`216257`,`216256`,`11699`]

or 

vulnerabilities.vulnerability.cveIds:[CVE-2021-21974]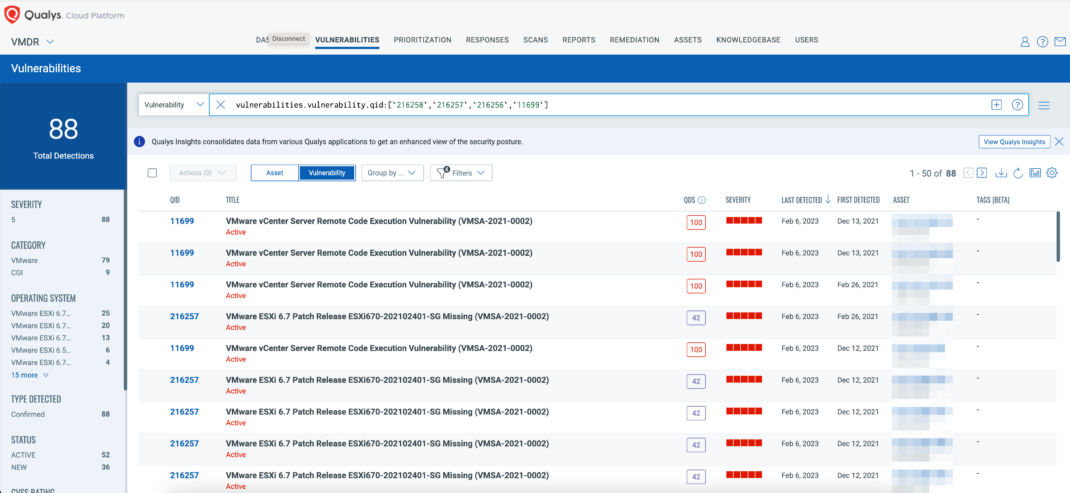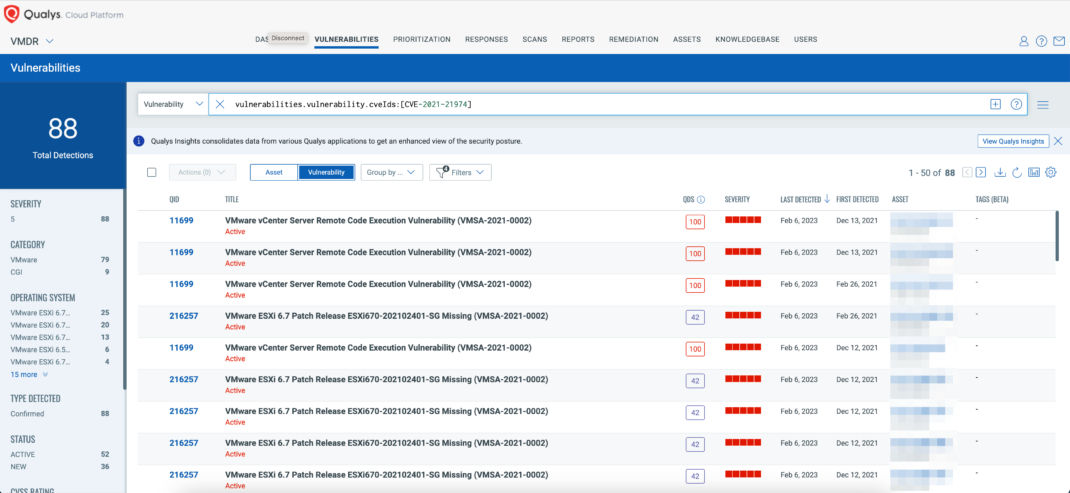 EVALUATE Vendor-Suggested Mitigation with Policy Compliance (PC)  
With Qualys Policy Compliance's Out-of-the-Box Mitigation or Compensatory Controls reduce the risk of a vulnerability being exploited because the remediation (fix/patch) cannot be done now, these security controls are not recommended by any industry standards such as CIS, DISA-STIG.
Qualys Policy Compliance team releases these exclusive controls based on Vendor-suggested Mitigation/Workaround.
The term "Mitigation" refers to a setting, common configuration, or general best practice in the default state that could reduce the severity of exploitation of a vulnerability.
The following Qualys Policy Compliance System Defined Control IDs (CIDs) have been updated to support VMWare recommended workaround(s) for these vulnerabilities:
CVE-2021-21974 ESXi OpenSLP heap-overflow vulnerability
CVE-2020-3992 ESXi OpenSLP remote code execution vulnerability
Policy Compliance Control IDs (CIDs):
22403 Status of the 'SLPD Service' service on the system
22451 Status of the 'SLPD Service' startup policy on the ESXi host
20971 ESXI Check firewall ports ruleset All 
Here are the QQL query for above Policy Compliance Control IDs:
control.id:[22403,22451,20971]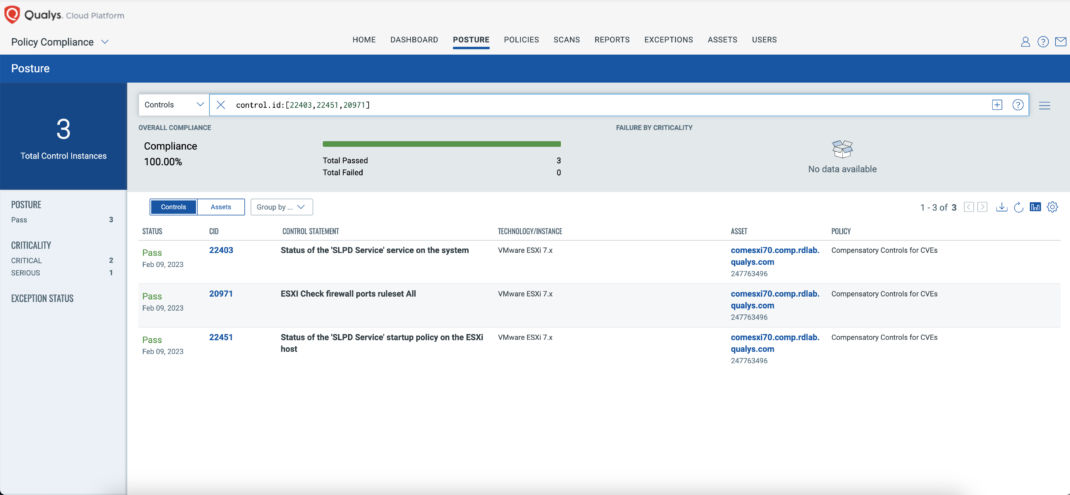 ESXiArgs-Recover: A Solution for Ransomware Attacks on VMware ESXi Hypervisors
Recently, the Cybersecurity and Infrastructure Security Agency (CISA) has become aware of ransomware attacks targeting VMware ESXi hypervisors. However, some organizations have succeeded in recovering their virtual machines without paying the ransom. In response, CISA has developed the ESXiArgs-Recover tool to assist organizations in their efforts to recover their data.
This tool is based on publicly available resources and has been compiled with the help of experts such as Enes Sonmez and Ahmet Aykac. It allows organizations to reconstruct virtual machine metadata from virtual disks that were not encrypted by the malware. This gives organizations an alternative to paying ransoms and losing access to critical data.
The ESXiArgs-Recover tool provides organizations with a valuable resource to mitigate the effects of ransomware attacks on VMware ESXi hypervisors. CISA recommends organizations use this tool to minimize the impact of these attacks.
It is worth mentioning that the ESXiArgs script from CISA is based on research findings from third-party sources. Organizations should examine the script before using it and understand the potential consequence on their system. The script creates new config files to enable VM access to VMs while does not delete encrypted files. It is provided for informational purposes only, and CISA does not endorse commercial products. The script is provided "as is" without warranty, and CISA does not assume liability for any damage caused.
Conclusion
It is strongly recommending that organizations isolate the affected server and conduct an analysis to detect any signs of compromise. A reinstallation of the hypervisor in a version supported by the publisher (ESXi 7.x or ESXi 8.x) is preferred, and security patches should be applied along with the following future vendor security advisories. Additionally, disabling unnecessary services and blocking access to administration services through a firewall is recommended. Updating a product or software should be done with caution, and testing and continuity of service provisions should be in place.
We take the protection of our customers' systems and data very seriously. We want to remind you of the importance of keeping your systems up-to-date with the latest patches and security updates.
Contributors
Aparna Hinge, Senior Manager, Compliance Research Analysis
Xiaoran (Alex) Dong, Manager, Compliance Signature Engineering
Anu Kapil, Sr. Product Manager, Compliance Solutions