Staying Ahead of Ransomware Threats
Ransomware attacks have become a growing threat to organizations of all sizes and sectors. Many of these attacks exploit known vulnerabilities, making organizations need to quickly identify and fix these weaknesses to prevent a potential ransomware incident. This is where the Ransomware Vulnerability Warning Pilot (RVWP) comes in.
RVWP, launched by the Cybersecurity and Infrastructure Security Agency (CISA), proactively identifies information systems that contain vulnerabilities commonly exploited by ransomware threat actors. Through this program, CISA will notify system owners of these vulnerabilities, enabling timely mitigation before a damaging intrusion occurs. This program utilizes existing authorities technologies and data sources, such as the Cyber Hygiene Vulnerability Scanning service and the Administrative Subpoena Authority granted to CISA under the Homeland Security Act of 2002.
The importance of establishing a Ransomware Vulnerability Warning Pilot (RVWP) to mitigate the risks associated with ransomware attacks cannot be overstated. Organizations can greatly reduce the likelihood of encountering a ransomware event by identifying and fixing vulnerabilities before they can be exploited. To support this effort, CISA sends notifications to organizations with known vulnerabilities commonly exploited by ransomware, providing essential information about the vulnerable system and guidance on mitigating the risk.
How Qualys empowers you to stay ahead of ransomware threats?
While compliance with CISA's recommendations is optional, organizations can benefit from additional resources, such as Qualys Threat Research Unit's cutting-edge vulnerability research and vast vulnerability database. In addition to its world-class research and intelligence capabilities, Qualys has a dedicated team of experts that provides guidance and support to its customers, equipping them with the means and support they need to stay ahead of emerging threats and proactively manage their security posture. One of the capabilities that Qualys offers is the Vulnerability Management, Detection, and Response (VMDR) tool, which automatically detects vulnerabilities and critical misconfigurations per Center for Internet Security (CIS) benchmarks, broken out by asset. This tool is essential in identifying misconfigurations that lead to breaches and compliance failures, creating vulnerabilities on assets without common vulnerabilities and exposures (CVEs).
Additionally, Qualys has introduced a 60-Day No-Cost Ransomware Risk Assessment & Remediation Service to enhance its offerings further. This service leverages their leading-edge security research and industry guidance from CISA, MS-ISAC, and NIST to proactively identify, prioritize, track, and remediate assets exposed to ransomware attacks. The service making it easier for customers to reduce their ransomware risk exposure and here are some of the key advantages of using Qualys Ransomware Risk Assessment & Remediation Service:
It offers a unified view of critical ransomware exposures, including internet-facing vulnerabilities and misconfigurations, insecure RDP, and detection of risky software in the customer's environment, and alerts for assets missing anti-malware solutions.
Accelerates remediation of ransomware exposures with zero-touch patching by continuously patching ransomware vulnerabilities as they are detected and enabling proactive patching for prioritized software to keep it up to date.
It enhances communication with executives about the risk associated with multiple ransomware attack vectors.
It is backed by an extensive Qualys Threat Research Unit (TRU) research team, and the service is based on an expertly curated list of ransomware-specific vulnerabilities, misconfigurations, and risky software.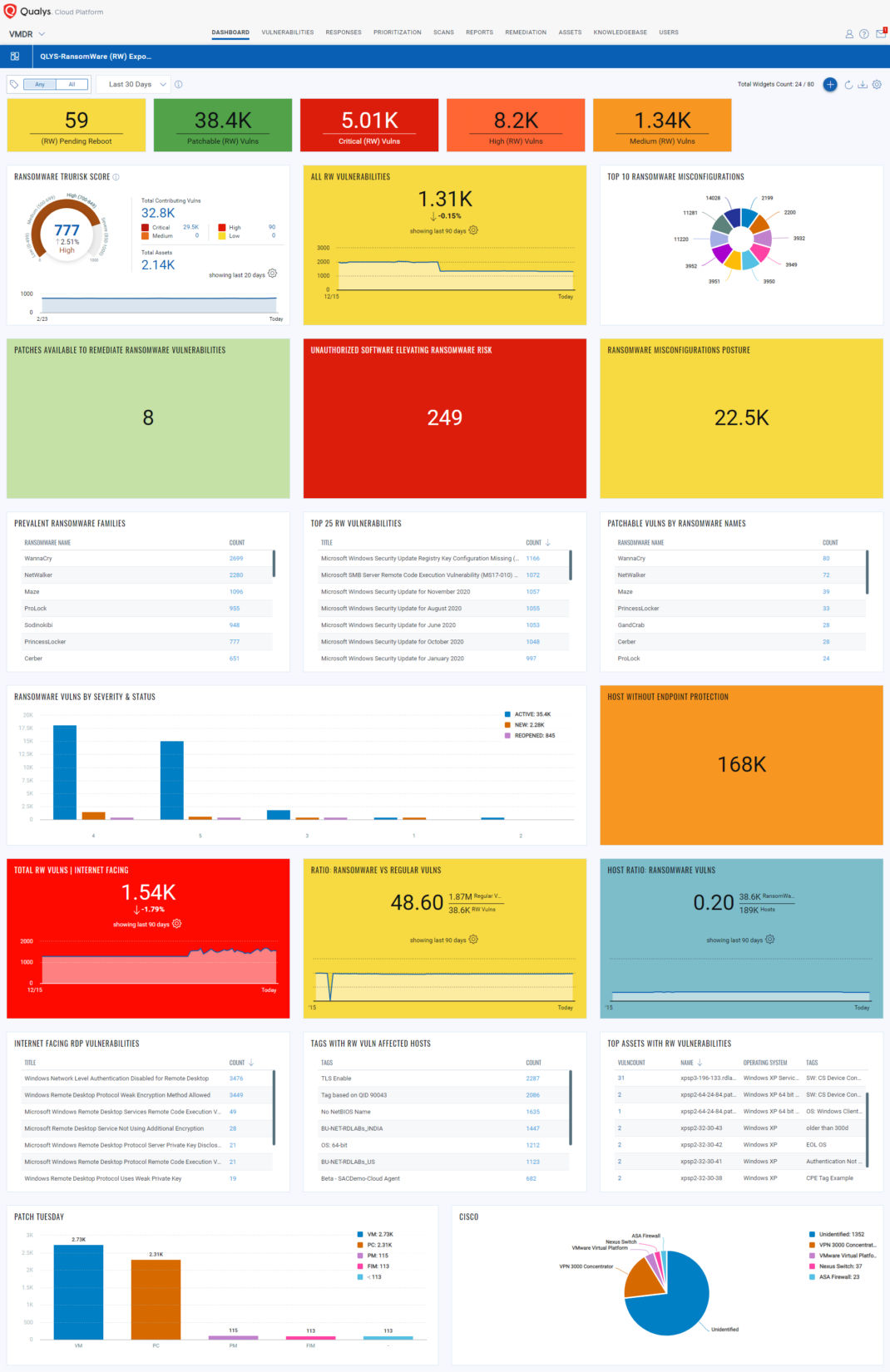 The Ransomware Vulnerability Warning Pilot (RVWP) by CISA is crucial in combating ransomware attacks, which pose a significant threat to organizations. RVWP proactively identifies vulnerable information systems and notifies owners for timely mitigation. This service and other CISA services help reduce the risk of a ransomware event.
Contributors
Swapnil Ahirrao, Principal Product Manager, VMDR