Qualys Wins Best Vulnerability Management Tool at SC Magazine Awards
Last updated on: September 6, 2020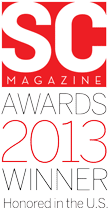 Qualys today announced that for the sixth time, readers of SC Magazine have named QualysGuard Vulnerability Management "Best Vulnerability Management Tool." The award was presented on February 26, 2013 at the SC Awards Gala in San Francisco.
"Our readers are on the front lines of information security, and they have recognized QualysGuard Vulnerability Management as a key tool for securing their organizations," said Illena Armstrong, VP of editorial, SCMagazine. "Without leaders in innovation like Qualys, we would not be able to plan for the future of enterprise security."
The SC Awards, now in its 16th year, is the premier recognition for IT security professionals and products that fend off the myriad security threats in today's corporate world. The annual awards showcase the best solutions, services and professionals while recognizing achievement and technical excellence. QualysGuard Vulnerability Management was selected by a panel representing a cross-section of SC Magazine readership, comprised of large, medium and small enterprises from all major vertical markets, including financial services, health care, government, retail, education and other sectors. Read the full announcement.