Qualys Named to Cloud Top 500
Last updated on: September 6, 2020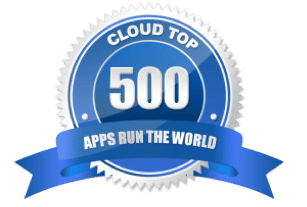 As a cloud pioneer, Qualys has been delivering cloud-based security services for years before anyone even imagined calling it the "cloud".
That's why it's nice to see Qualys honored by "Apps Run the World" in their latest "Cloud Top 500" list of the 500 biggest cloud app vendors in the world. At #223, Qualys is one of the only security service providers to be included, and was recognized for delivering a wide variety of risk management and compliance services for the globally distributed enterprise.
The "Cloud Top 500" list – compiled by Apps Run the World, a leading software market research firm – analyzes and tracks growth among cloud-based companies and covers areas like collaboration, ERP, risk and compliance management, as well as segments like banking and health care.
Here are a few highlights from the report:
Qualys delivers a wide variety of cloud-based security services: continuous monitoring, vulnerability management, policy compliance, PCI compliance, security assessment questionnaire services, web application scanning, web application firewall, malware detection and SECURE Seal for website security testing.
The Qualys Cloud Platform performs more than 1 billion IP scans/audits a year resulting in over 400 billion security events.
The Qualys Cloud Platform and integrated suite of solutions helps businesses simplify security operations and lower the cost of compliance by delivering critical security intelligence on demand and automating the full spectrum of auditing, compliance and protection for IT systems and web applications.
It's an honor for everyone at Qualys to be included among other cloud innovators such as IBM, Workday, Citrix, and ServiceNow.
Personally, I couldn't be more pleased and excited to join such an innovative team here at Qualys. It's a good time to have our heads in the cloud.
Hope to see many of you at QSC in Vegas this week!