Unified Dashboard Preview for Enhanced Security Visualization
Last updated on: December 22, 2022
Qualys has introduced the Unified Dashboard Framework (UDF) to enrich your dashboarding experience. Unified Dashboard (UD) brings information from all Qualys applications into a single place for visualization. UD adds a powerful new dashboarding framework to the Qualys Cloud Platform that will be consumed and used by all other products to enhance the existing dashboard capabilities and bring to life a "ONE Dashboard, ONE Platform" view of your organization.
Dashboards can be used to convey relevant information to any audience at any time and in any place. The dashboards can be customized and shared with their intended end-users. Unified Dashboard provides greater agility and enriches the capabilities of dashboards. Users can visualize data from other applications at a central place and get a better understanding of data.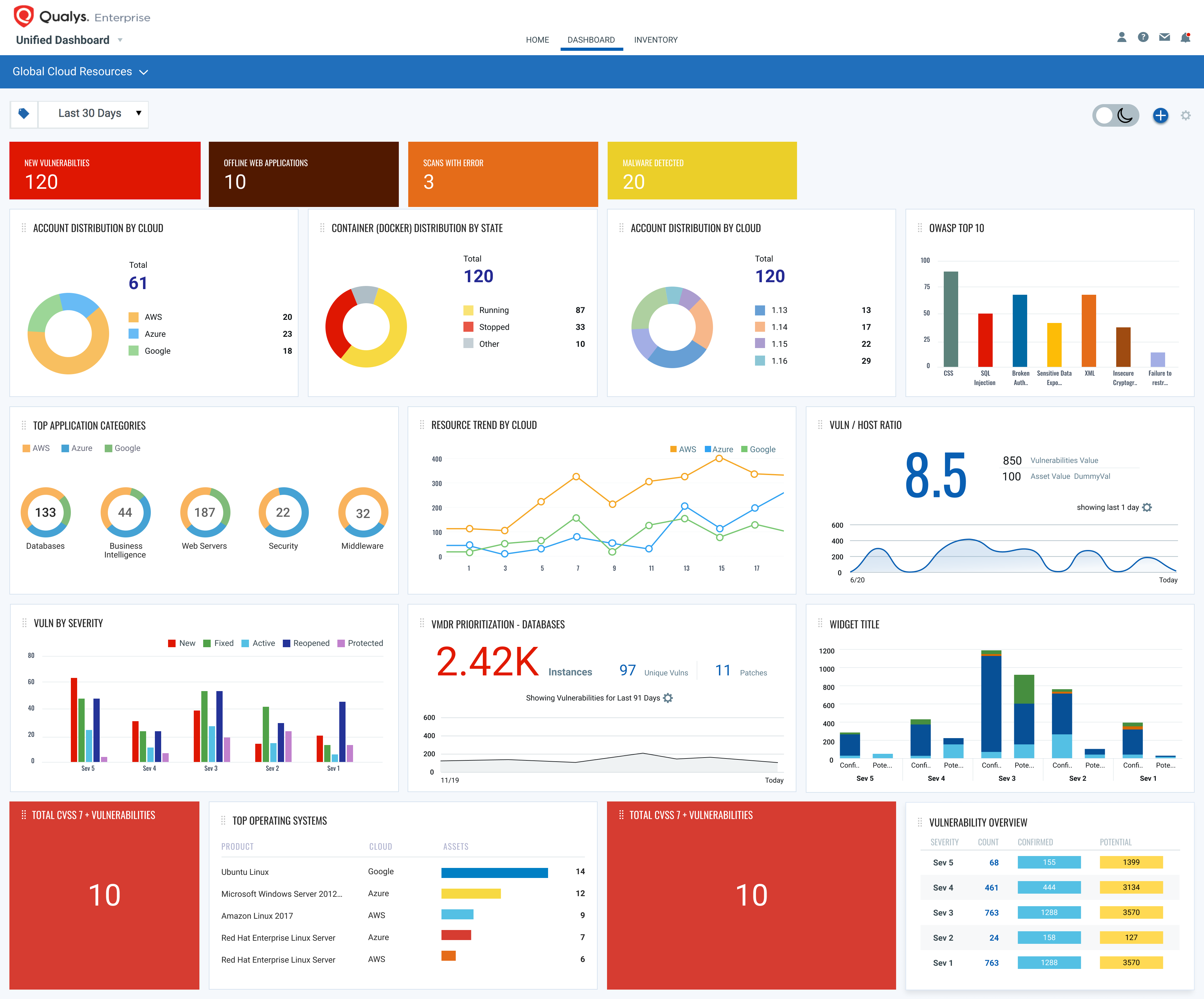 Single-Pane-of-Glass Visibility
The Unified Dashboard (UD) Framework replaces the individual dashboard engines across the products. UD will give you single-pane-of-glass visibility into your organization. Unified Dashboard provides greater agility and capabilities, allowing you to visualize data from all applications together, get a better understanding of your data, better answer questions, and make new insights.
Security teams struggle to see their IT asset inventory along with the current patch posture breakdown for their organization. As shown in this example, Unified Dashboard can cohesively and dynamically work with Global IT Asset Inventory, Vulnerability Management, Patch Management, and many more widgets to give a single view of your enterprise.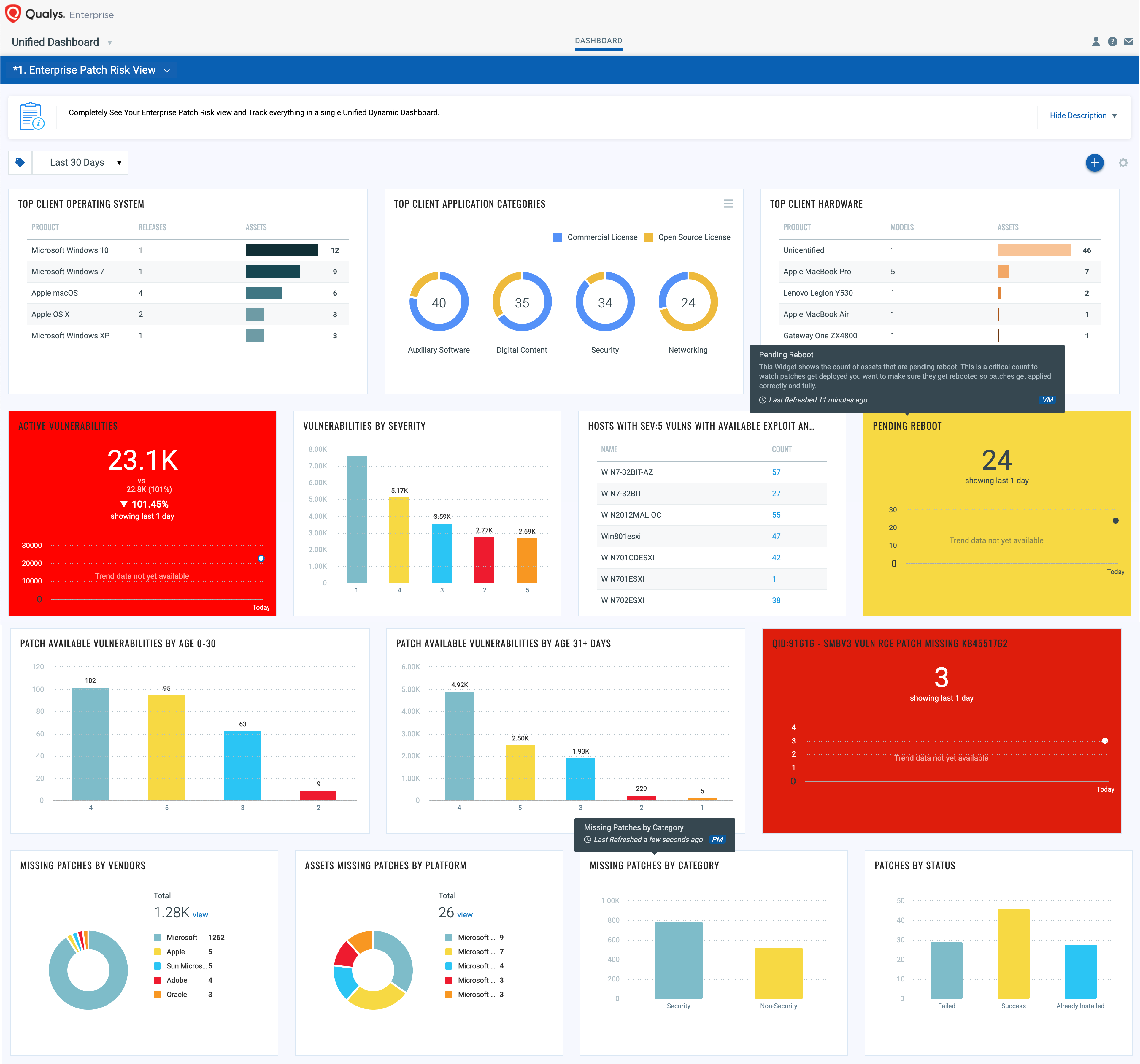 Key Features
Qualys Unified Dashboard has the following features:
Ease of use for visualizing data and creating / managing dashboards
Widget creation from different modules for cross-data visualization
Ability to save, manage, view, and create a widget from recent queries
Easy duplication of widgets
Complete full-width use of the entire screen
Easy pivot from widget to another application
Easy pivot from a dashboard to another dashboard
Responsive UI for all types of devices
Ability to provide more enhanced descriptive text to the widgets and dashboard
Additional group-by's
Multi-column support
Multi-dimensional group-by
more to come…
Cross-Platform Integration with Patch Management, VMDR, and EDR
The Unified Dashboard Framework has been integrated with Patch Management, VMDR, and EDR for quick accessibility; other app integrations are coming. Users can leverage the default VMDR dashboard provided by Qualys or easily configure widgets to pull information from other modules/applications and add them to your dashboard. Users can also add multiple dashboards to customize the vulnerability posture view.
Easy-to-Use Widget Builder
The ability to build any widget from any module with the easy-to-use widget builder in Unified Dashboard allows you to quickly create any widget type needed to display your KPIs and metrics on your favorite dashboard. Easily switch from Asset Counts to Vulnerability counts.
New Widget Visualizations
Unified Dashboard brings new widget visualization types such as multi-column group-by, summary count cards, multi-bar & stacked, and ratio count widgets.
Unified Dashboard is being integrated into the entire Qualys Cloud Platform as a core service to enable all other applications to benefit from this central view and responsive UI.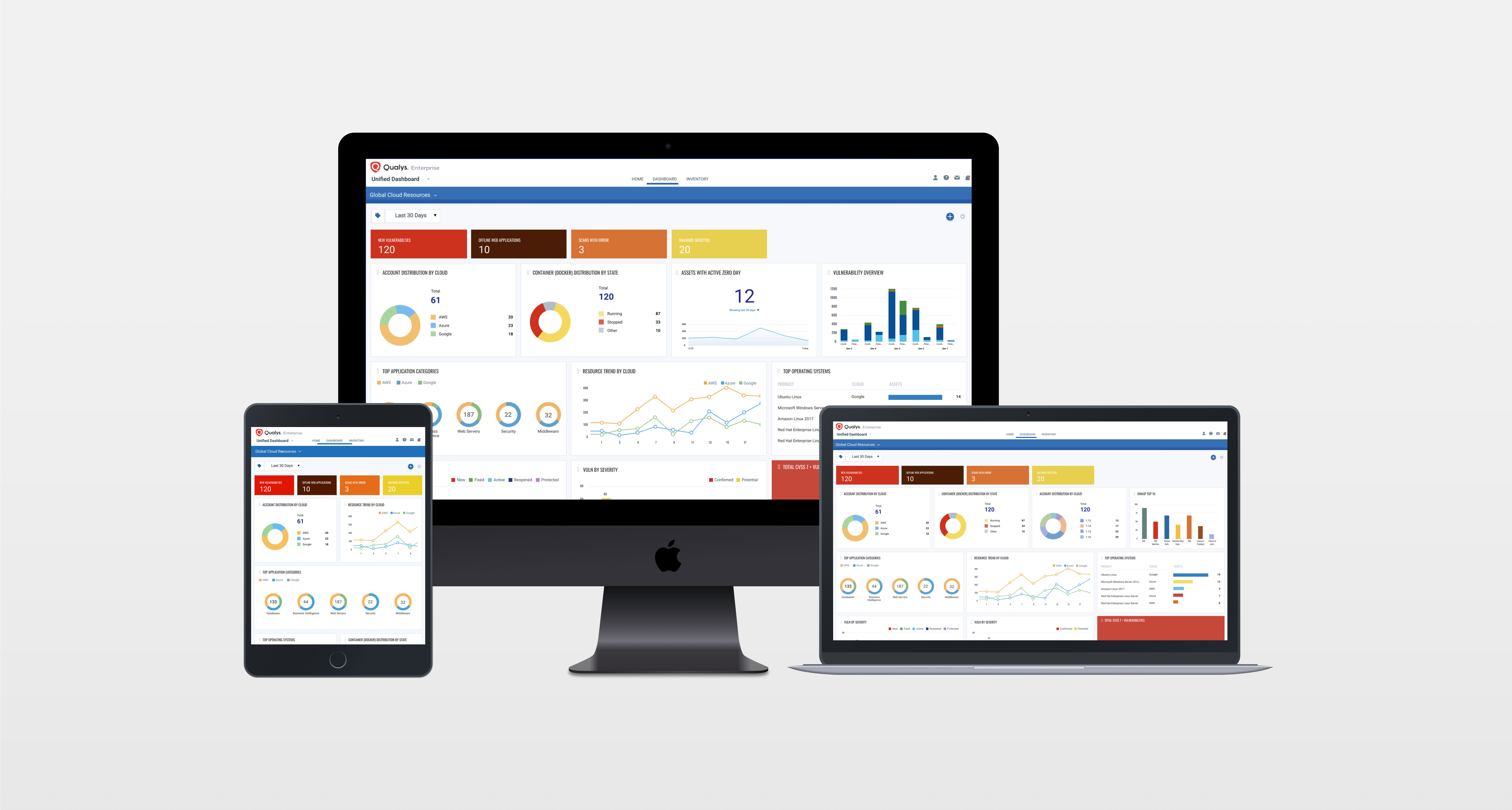 Availability
Unified Dashboard is available with Qualys Cloud Platform.