March 2014 Patch Tuesday
Last updated on: October 27, 2022
Today Microsoft released the bulletins for March Patch Tuesday. We have five bulletins, MS14-012 to MS14-016, a light patch tuesday by all comparisons, even with Adobe chiming in with an update that is non-critical.  If it wasn't for the Internet Explorer (IE) patch that addresses the 0-day that was found during last month's Patch Tuesday, one could call it almost uneventful.
Here is our lineup for today:
The other major Microsoft issue is the coming end-of-life of Windows XP. We are now less than 28 days away from the final set of patches that XP will receive. Nevertheless, we are not seeing a reduction in vulnerabilities. All of today's bulletins apply to Windows XP and there is really no reason to expect any change in the near future: the majority of vulnerabilities found in the Windows OS and IE will apply also to Windows XP, but IT admins won't have access to patches for these problems anymore. This will make any Windows XP machine an easy target for attackers, and within a few weeks, new tools will be developed that make these exploits widely available.Your best choice is to migrate away from Windows XP to a newer version of the operating system.
So far, you have done an incomplete job. In our latest survey of roughly 35 Million monthly scans, we are still seeing 14% of Windows XP machines, down from 16% In January and 17% in December of 2013. If that trend continues, we are projecting 10% by the end-of-life date, at least in the enterprise space that is covered by QualysGuard.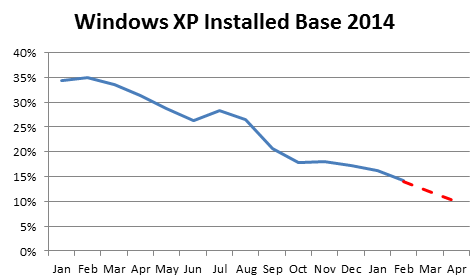 Two weeks ago at the RSA US 2014 conference in San Francisco Microsoft released a preview version of their EMET 5 (Enhanced Mitigation Experience Toolkit) security toolkit. EMET implements additional restrictions on Windows, monitoring programs for violations of policy and, optionally, shutting down the offending programs. It has been effective against all 0-day attacks of  2013 and 2014, starting with MS13-008, MS13-021, and MS13-038. In the known exploit against this month's MS14-012, the attacker acknowledges that power and tests for the presence of EMET beforehand, proactively forfeiting when the EMET DLL is detected. I recommend IT admins to take a look at this toolkit and test its compatibility with their installations. The new EMET version 5 introduces a plugin whitelisting capability that could be a great asset in controlling browser plugins, for example only allowing Java to run on a controlled subset where the plugin is actually required.
That is it for this month's bulletins, but stay tuned for more coverage about XP in the SMB and home market, plus a breakdown of the numbers that takes geography into account.